posted in <<Chemical Sensitivity News > Electrical Sensitivity News > Featured > NEWS
New financial aid website for the chemically sensitive
Spanish woman starts blog to help those less fortunate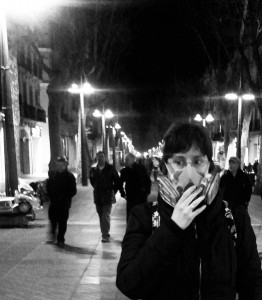 María Zambruno, a Spanish woman with chemical sensitivity and member of Planet Thrive, recently started an English-language blog called Practical Support For People with Multiple Chemical Sensitivity as a means to connect those who are too ill to support themselves because of MCS – and with little or no help at all from the state, family or friends – with those who want to help by sending much needed funds or goods. Her blog features those in need of immediate financial aid for medical care, health insurance, organic food and clothing, water filtration units, and other costs associated with the potentially devastating and debilitating illness.
The blog currently features Linda Sepp of Ontario, Canada, Dennis Wright, a 34 year old from Florida, and Christi Howarth, a disabled American single mother now living in Switzerland with her son.

Many in the chemical sensitivity community are aware of Linda Sepp's housing saga – after losing her home, she has spent the winter in a one room summer cabin. Her most urgent needs aside from a safe permanent home, include funds to build an outhouse, winter boots, coat, mittens, and CAD$902 to cover her annual car insurance. You can read more of her story here.
Dennis Wright is living with his elderly parents in Florida. He has no income and receives no disability benefits, so he is completely dependent on his parents for support. They are unable to provide him with some of the basic items needed to control his indoor air quality, such as an air purifier. He also needs a water purifier, organic cotton clothing and blankets, and funds for organic food, supplements and urgently needed dental work. Read more about Dennis here.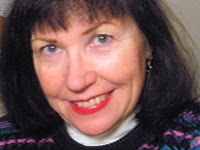 Two years ago, after becoming disabled from workplace exposures as a teacher in California, Christi Howarth moved to the Swiss Alps with her son to live in a village with clean air. Her health insurance is asking for 3100 Swiss francs in order for her to keep her insurance and remain in treatment with her environmental medicine physician. In addition, she has had an unexpected expense this month, as the U.S. government took $1,000 from her disability check to pay federal taxes without any notice. She needs help with her health insurance payment and living expenses this month in order to remain in Switzerland and avoid becoming an environmental refugee – read her full story here.
Why did Maria, a woman more comfortable speaking and writing in Spanish, start a blog for those in English speaking countries like America and Canada?
I just couldn't stand here doing nothing. I know I'm slow and it'll take loads of effort, but if someone is helped through that blog, just one person, so that they can manage to at least breathe pure air, use safe water, eat safe food, etc., then I will be able to say that the work was worth it.

I just want people out there to know that, even if this isn't a non profit, and I can't take money through the site because I'm not allowed to, at least they have a space, a voice, to speak up and tell the world about their needs. And if someone in the know, or someone with the will to help, or just someone with a heart and some money or good ideas to spare happens to read, they will probably have some help.

I wasn't alone in my journey, and even if my immediate family vanished, I won't be left alone, I'm sure of that. But others are so, so alone. I feel for them. I can't do much. I'm not rich. I wish I was. I also wish I was healthy enough so as to start a proper organization and knock on all doors and get people moving. I don't think I am able to do that, but I thought of this way to help and I hope it does help.

It's a humble blog. If someone wants to use it and take it somewhere else, make it bigger, someone with the power to do it, and the energy, skill and resources, I will support them without hesitation. Because there are too many people suffering out there already, not even able to think because they haven't got clean air."
Where does all this compassion come from? Maria has been through a lot herself. She was diagnosed with chemical sensitivity in 2005 but the symptoms started while she was just a child, after a bout of food poisoning. No one knew about MCS back then, so she just carried on with her life until her symptoms exploded in 2003 and then again in 2005, a few months after she was diagnosed.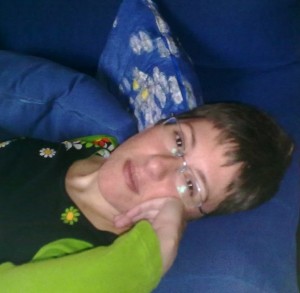 She's had to move twice because of her MCS and she's now in the process of a third move, so she knows about the struggle with housing that many with chemical sensitivity experience. She stopped working altogether in late 2005, after being disabled and on sick leave for months. She sued the Spanish national health system for denying her recognition and benefits for her MCS, CFS and FMS. She won.
She now lives on the Mediterranean coast with her husband, in the same town as her parents. She only accepts visits from her parents and sisters, who have changed their use of personal care products to accommodate her needs. She's unable to visit anyone in their home or travel by train or plane. She had to stop driving ten years ago due to the cognitive impact of MCS and CFS on her ability to stay alert and pay attention to more than one thing at a time. Even with all of these limitations and the isolation, she remains extremely aware, and grateful, for all that she does have:
I have clean air thanks to my amazing purifiers, clean water for drinking and washing, organic food, mostly safe clothes, etc. I've got my pension, my family, some friends here (even if I don't see them, I feel they care, and they do help). But others are alone in their suffering, and with no economical help of any kind. 

A person with MCS who has no clean air in their room or place is a person that can't think clearly. And if you can't even think, how are you going to take the steps neccessary to actually improve your life quality? Impossible!

Those people need help from others in order to meet their needs, and that's what the blog is about. It would be best if an NPO was started, but as I haven't got the means or resources for that, I thought I'd at least set up a blog and give them a place where to state what their needs are, and then try to spread the word about it."
Thank you Maria for being the caring, compassionate person you are to take action to help others, even those outside your own country. You saw a need that was not being met, and took responsibility to be a part of the solution. We need more people like you in our world.
Leave a reply