posted in <<Elana's Gluten-Free Pantry > Featured > THRIVE! EXPERTS
Elana's Gluten-Free Pantry
Roasted balsamic beets
another yummy gluten-free recipe from Elana's pantry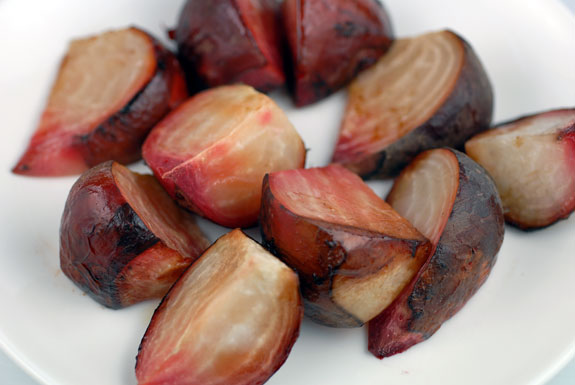 photo provided courtesy of elanaspantry.com

In my opinion, nature's bounty of beautiful, nutritious vegetables is completely underrated. And beets are a perfect example of this. They brighten up any meal with their gorgeous earthy reddish-purple color and are highly nutritious to boot.
We eat beets in my house about once a week (our fave veggies are kale and broccoli, not a day goes by without those brassicas at our table, in fact tonight we're having both, along with this grilled lemon chicken dish). So, back to beets. This root vegetable is thought to have nutrients that contain both antioxidants and anti-inflammatory properties. The nutrients in beets are also thought to assist in detoxification. That's not why we eat beets though, we just like 'em. They're delicious and super easy to prepare!

ingredients
3-4 medium beets
1 tablespoon balsamic vinegar
2 tablespoons olive oil
½ teaspoon celtic sea salt

directions
Wash beets, scrubbing well to remove any dirt
Cut beets into 4 to 6 wedges
Place beets in a 3-quart pyrex baking dish
Drizzle vinegar, oil and salt on top of beets
Cook at 375° for one hour (covered), then 15 minutes (uncovered), until almost fork tender
Serve
The variety of beets pictured above are not the norm in color when it comes to beets. Most beets found in the grocery or health food store, are a nice purplish red through and through. These just happen to be a variety I picked up (and cooked and photographed) last summer from the Boulder farmer's market.
recipe courtesy elanaspantry.com
Leave a reply