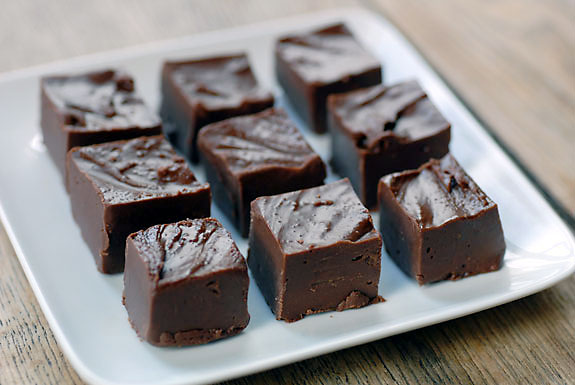 photo provided courtesy of elanaspantry.com

I love fudge, I do. The only trouble with it is that most fudge is so sweet I usually feel sick to my stomach after eating it. Needless to say, it's been years, maybe even decades, since I've had fudge.
However, when I stumbled across this recipe for Peanut Butter Fudge by Laura Dolson, I knew I could have my fudge and eat it too! Her recipe uses peanut butter (instead of the usual butter), and alternative sweeteners, rather than sugar. I changed her recipe a bit, she had close to 2 cups of sugar alternatives, and in my version I have used a mere 2 tablespoons of xylitol, though I think this recipe could work also with agave, honey or any other number of sweeteners, if you are willing to take the time and risk of experimenting.

ingredients
1 cup dark chocolate chips 73% cacao
1 cup smooth peanut butter
2 tablespoons xylitol
1 tablespoon vanilla extract
¼ teaspoon celtic sea salt

directions
Melt chocolate in a medium pot
Remove from heat then stir in peanut butter and xylitol
Once xylitol is incorporated, stir in vanilla and salt
Spread into a 8.5 x 4.5 x 2.5-inch size loaf pan
Refrigerate for 2 hours
Cut the fudge into 7 by 4 rows to make 28 small pieces
Serve immediately and store in the freezer
recipe courtesy elanaspantry.com