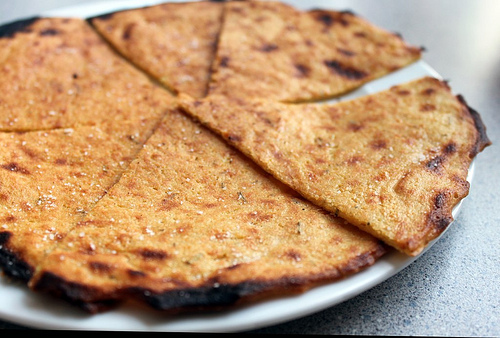 photo provided courtesy of affairsofliving.com

Once you make socca, you'll never want to live a life without it. Socca is a thin, unleavened flatbread or pancake made from chickpea flour. Known in Italy as farinata or cecina, this chickpea pancake was founded in Genoa and became a popular food of the Ligurian Sea coast, from Nice to Pisa. Socca couldn't be easier to make – simply chickpea flour, water, olive oil, and salt and spices. It is cooked in broiler or open oven until crisp and charred. Socca has gained popularity all around the world; depending on where you are in the world, it might be garnished with more olive oil, salt, pepper, cumin, harissa, or even jam.
I like it hot out of the broiler, brushed with olive oil, and sprinkled with French grey salt and freshly cracked black pepper.
Despite traveling throughout France multiple times and Italy, I've never eaten socca at the source – my experience with socca is limited to my kitchen. For a great write up about socca, check out this post by David Leibovitz. I often default to him for just about anything, especially anything French. My default socca recipe is tweaked from the version in that post, and I think you'll love it as much as I do. It is a great snack, especially for parties, and makes a lovely appetizer for dinners.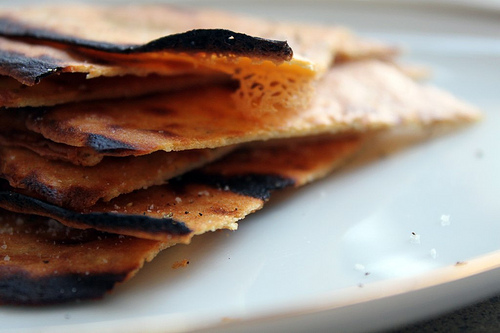 ingredients
I adapted David Leibovitz' recipe slightly, adding rosemary and including a longer soaking period for the chickpea flour with a little acid to help break down the phytic acid in the chickpeas and make it more easily digested.
If you are concerned about heating olive oil to the temperature required in a broiler, feel free to use ghee or another high temperature oil of your choice. Using melted ghee creates a wonderful, rich nutty flavor – but I often use olive oil, to be honest. I'm willing to take a few free radicals here and there, especially for something as tasty as socca.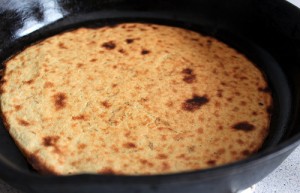 • 2 cups chickpea flour
• 2 cups + 1/4 cup water
• optional: 1 tsp raw apple cider vinegar, raw coconut vinegar, whey, or lemon juice
• 1 1/2 tsp sea salt
• 2 tsp dry rosemary leaves, lightly crushed
• 1/2 tsp ground cumin
• 5 Tbsp olive oil, divided
• freshly-ground black pepper, plus additional sea salt and olive oil for serving
directions
Mix together the flour, 2 cups water, and acidic medium, and whisk until totally smooth. Let batter rest for 8-12 hours lightly covered with a towel at room temperature (on the counter is perfect!). It will begin to bubble slightly and become lighter and airier. Then whisk in salt, cumin, rosemary, remaining 1/4 cup water, and 2 1/2 tablespoons of the olive oil.
To cook, heat the broiler in your oven. Oil a 9- or 10-inch (23cm) pan with 1 Tbsp olive oil and heat the pan in the oven. I used my 10″ cast iron skillet, which worked perfectly.
Once the pan and the oven are blazing-hot, remove from the broiler, pour enough batter into the pan to cover the bottom, swirl it around, then pop it back in the oven. Thinner batter yields a lighter, crisper socca than heavily applied batter.
Bake until the socca is firm and beginning to blister and burn. The exact time will depend on your broiler.
Slide the socca out of the pan onto a cutting board, slice into pieces, then shower it with coarse salt, pepper, and a drizzle of olive oil.
Cook the remaining socca batter the same way, adding a teaspoon or two of oil to the pan and heating it slightly again in the broiler before adding the batter and cooking.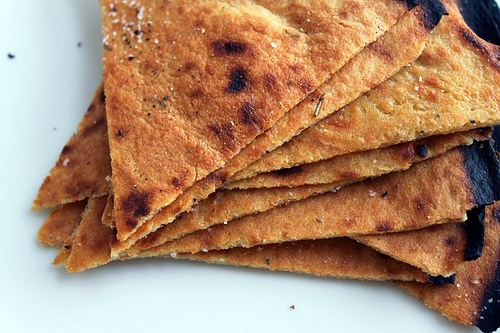 makes 5-6 10″ socca flatbreads
recipe courtesy affairsofliving.com