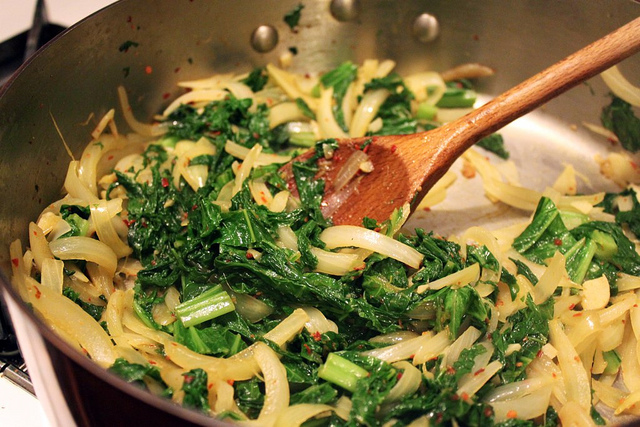 photo provided courtesy of affairsofliving.com

I love mustard greens. As a fan of strong, pungent flavors, I adore their inherent bity zippiness. When I don't want to think about what I'm making for dinner, I default to a making greens with onions, garlic, and spices. Easy greens recipes like this are a staple in my kitchen.
This recipe is nothing earth-shatteringly unique, but it is delicious, simple, and versatile. You can easily season it differently or prepare with kale, collards, bok choy, or chard (if using chard, saute the chard stems along with the onions and garlic) instead of mustard greens. The cooking times may vary slightly, but the basic process is the same. I served mine with smoked spicy pork loin and some zippy mustard. It would also be very good with a well-seasoned bean dish, sauteed tofu, roasted chicken, or an Indian-style curry. The choices are endless!
By the way, mustard greens are very easy to grow. If you have extra space in your garden, you might enjoy reaping the benefits of a plant or two.

ingredients
• 1 bunch mustard greens, stem removed and leaves chopped
• 2 medium onions, thinly sliced
• 3 large garlic cloves, chopped
• 1 Tbsp ghee or coconut oil
• 1/2 tsp ground cumin
• red pepper flakes or aleppo pepper, to taste
• unrefined salt, to taste
• juice of 1/2 lemon

directions
Heat ghee in pan over medium high heat.
Add onion and garlic, and saute until translucent. Add mustard greens. Cover pan and let cook for 2-3 minutes, then remove cover and stir.
Replace cover and continue to cook for 3-5 minutes until greens are tender and vibrant green, adding a splash of water as needed.
Remove cover and add cumin and red pepper flakes. Add lemon juice and salt, to taste.
Serve.
makes 2-4 servings

recipe courtesy affairsofliving.com