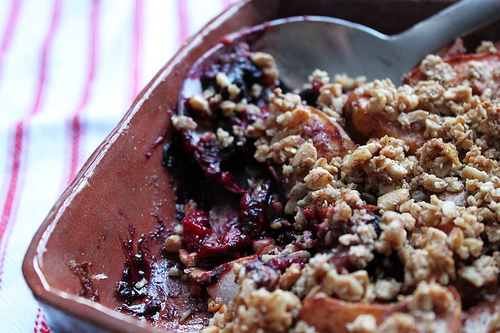 photo provided courtesy of affairsofliving.com

I made this crisp to take along to a dinner with friends last month. In addition to sharing allergies, intolerances, restrictions, often waning energy levels, and pretty amazing cooking skills, we all share another thing: chronic illness. Lyme, Babesiosis, Bartonella, CFIDS, MCS, the list goes on. How we all manage to have so much fun discussing our symptoms, looking up lab tests and CPT codes online, and talking about our medications and supplements amazes me. It is a small group, just the right size, and the openness, honesty, and solidarity is refreshing. There's no drama, no judgement – just conversation and understanding. And despite it all, we laugh and joke and have a blast. And don't be mistaken, we spend plenty of time talking about stuff other than Lyme.
I feel blessed. This group is just one slice of the community that I am proud to call my own, and I recognize how fortunate I am to have a support network. Especially a support network that can cook! :)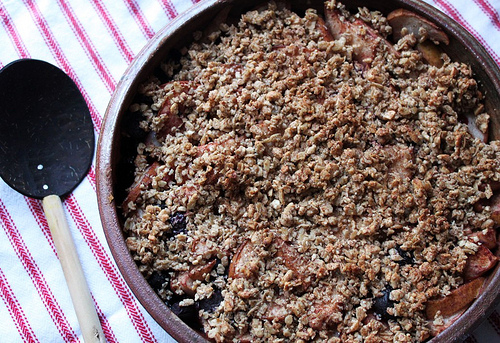 Truly, our Lymie dinners are nothing short of delicious. We bring contributions such as green Thai curry and jasmine rice, roasted pork loin with pears and sweet potatoes, baked salmon, roasted vegetables, and fresh vegetables with hummus and olive platters. This last dinner was lovely – spinach salad with all the fixings, charbroiled marinated shish kebobs, wild rice & ground pork dressing, veggies and hummus, and pear berry crisp. The crisp was my contribution, and rounded out a dinner that left us all satisfied and happy. All of us watch our intake of sweet things, so a sugar-free dessert like this was perfect! Sweet fruit, spicy cinnamon, and a crunchy crumble topping – you can't go wrong!
I hope you enjoy it as much as we did. Share it with people you love, and take a moment to appreciate the ways in which you find solidarity, community, and understanding. Be well.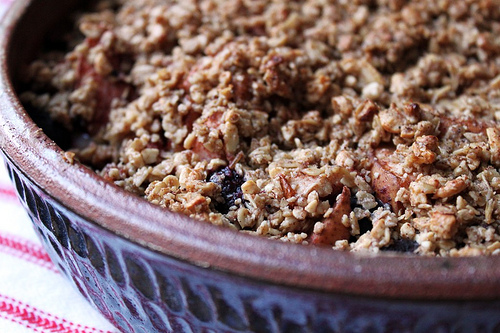 Crumble ingredients
• 100 g (approx 1 cup) GF rolled oats
• 120 g (approx 1 cup) raw cashews
• 1 tsp cinnamon
• 1/8 tsp pure stevia extract powder (I used NuNaturals brand)
• pinch unrefined salt
• 1/4 cup neutral-tasting oil (I used organic sunflower oil)
Filling ingredients
• about 1 kg (2-2 1/4 pounds, or 6 medium)) ripe, firm pears
• 225 g (8 oz) frozen berries (I used this mix of blueberries, blackberries, and black raspberries)
• 1/16 tsp pure stevia extract powder (I used NuNaturals brand)
• 2 tsp cinnamon
• 30 g (approx 1/4 cup) arrowroot starch/flour

directions
Heat oven to 350º F and oil a 9″x13″ baking dish, or two smaller baking dishes.
Make crumble by placing cashews and oats in a blender or food processor, and process until coarse crumbs appear. Do not blend/process too long, or you will make flour! Transfer to a bowl and mix with other dry ingredients, then add oil and mix with a fork until evenly moistened. Set aside.
Quarter and core the pears, then cut into bite-size 1/4″ thick pieces. Mix in a bowl with remaining ingredients, then transfer to prepared pan. Sprinkle with crumble topping, and place in oven. Bake for 35-45 minutes, until top is browned and crisp and filling is bubbling a little. Remove from oven and let cool a bit before serving.
Great with a scoop of coconut milk ice cream! And it is darn good cold too.
makes 1 large or 2 smaller pans of crisp

recipe courtesy affairsofliving.com