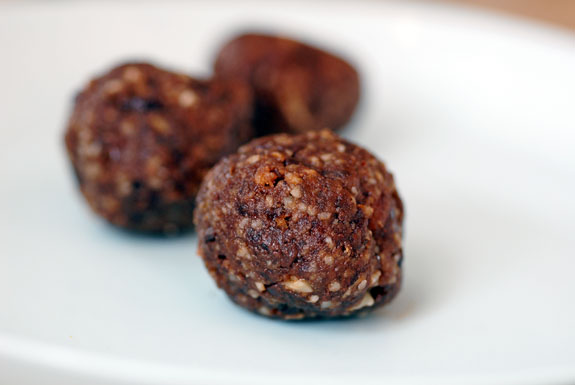 photo provided courtesy of elanaspantry.com

This scrumptious, dairy free, gluten free, vegan, super transportable snack is a power bar in the form of balls. What I love most about it though is the flavor –they taste like raw cookie dough!
This recipe came from a comment on my Cuisinart Giveaway post, left by Karen; it is also similar to another recipe that many people mentioned on that post as their fave recipe, called Fudge Babies. Since these have just a tad sweeter than Fudge Babies, we were joking around, calling them Fudge Children, and Fudge Adolescents.

ingredients
1 cup Medjool dates, pitted
2 cups walnuts
½ cups dark chocolate chips 73% cacao
1 tablespoon vanilla extract
¼ teaspoon celtic sea salt
1 teaspoon water (if necessary)

directions
Place dates, walnuts and chocolate in food processor
Pulse on high speed until the texture of coarse gravel
Pulse in vanilla and salt (if necessary, add water so that dough forms a big ball)
Form mixture into one inch balls
Serve
recipe courtesy elanaspantry.com