posted in <<Chemical Sensitivity News > Featured > Lyme & Co-Infections News > NEWS
Feisty lyme sisters helping each other out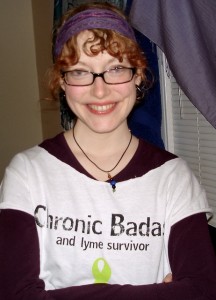 May is Lyme Disease Awareness Month. It's also Chemical Sensitivity Awareness Month. And a host of other invisible disease awareness months. In honor of this, we wanted to highlight a grassroots effort being orchestrated by a small group of lyme and MCS disabled gals to help a sister in need. In just a couple of weeks since the idea's inception, they managed to create a whole blog and silent online auction with over thirty five items being sold to help contribute to Heather's medical fund. From the blog they set up: "Heather is disabled by illness and due to an unexpected personal crisis is now unable to continue necessary treatment for her condition. She is a young woman who has been sick almost all her life. She has chronic Lyme disease and multiple chemical sensitivity (MCS). Heather's story is one of a kind, thoughtful, generous person who keeps getting knocked down by life's circumstances, and keeps pulling herself back up to live another day with determination and integrity."
Sharon Wachsler, fellow lymie and MCS sufferer and one of the people who helped organize the auction for Heather, wrote an eloquent post on her blog today entitled Feisty Sisters Are Doin' It (with your help!). In it she shares the words of Whitney Williams, another one of the Feisty Sisters who helped organized this auction:
Heather Askeland was one of the first people in a community of chronically ill individuals to open her arms to me as a recently diagnosed, totally overwhelmed newcomer to "Lymie Land." She gave love freely, without hesitation or pretense, and supported me as if I were one of her own. There were many painful days and scary nights, through which I attempted to navigate the murky workings of yet another disease taking me into uncharted territory and ravaging my body and mind. Heather offered me comfort, friendship, and even sisterhood.

As I have now come to discover, I am one of her own. I'm certainly not alone in that! Heather's heart knows no boundaries, no borders. She loves each of her friends as if they are her dearest; her heart is ever-blossoming to include each of us as her chosen family. Her spirit is irrepressibly fierce and still so full of grace despite hardship after hardship she has faced. She is a fighter, poet, survivor, heroine to many, and a friend to all. She helps me realize there is love and compassion in the wake of loss.

Recently, it came my attention that Heather experienced some incredible personal hardships that have depleted her physically, emotionally, and financially. Because of her debilitating chronic illness, Heather is unable to work to support herself.

Thus, a group of us — most, but not all, fellow Lymies and/or MCSers — have created an online silent auction, in her honor, to raise money that will allow Heather access to the medical care and treatments she so desperately needs."
I hope that this effort will shine a light for others to coordinate similar fundraisers for friends in need in the MCS, lyme, and other invisible illness communities. It's a win-win-win-win equation!
The items being auctioned include concert tickets and autographed CDs, health supplements, jewelry, books, business card design, an online class on intuition, a personal intuitive reading, and even a dog-training consultation.
The auction is now open and will close on Sunday night, May 22, Midnight Eastern, 9 PM Pacific. Get your bids in before it closes!
Leave a reply