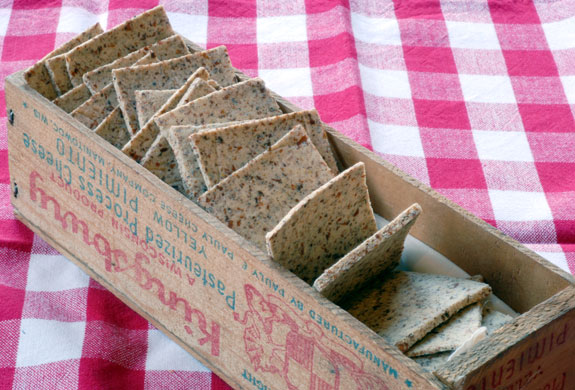 photo provided courtesy of elanaspantry.com

When I was a child I loved crackers. Still do. I especially loved Wheat Thins. Can't have those anymore. Solution? I've made my own. These tasty Wheat Thins remind me of the yummy little crackers in the yellow package of my childhood. The ones my mother bought for parties. The ones that weren't gluten free.
That was back in the days before we knew about celiac disease and gluten free living. Before my mother was diagnosed with celiac. Before I was diagnosed, and my son, and my sister. Before this auto-immune disorder wreaked havoc on my family.
The good news? Treating celiac is as easy as going on a gluten free diet, and now we all are. Even my husband. He's gone gluten free because he feels better on the gluten free diet. And he wants to be like us.
Now, forget about all of that disease talk, and grab yourself some tasty gluten free wheat thins.
ingredients
1 cup firmly packed almond pulp
2 tablespoons flax meal
1 tablespoon grapeseed oil
½ teaspoon celtic sea salt
1 tablespoon agave nectar
directions
Combine all ingredients in a large bowl
Roll dough into a ball, press between 2 sheets of parchment paper and roll to ¼-inch thickness
Remove top piece of parchment paper
Transfer the bottom piece with rolled out dough onto baking sheet
Cut dough into 2-inch squares with a knife or pizza cutter
Bake at 135° for at least 20 hours (yes, 20 hours), or until crunchy
Let crackers come to room temperature on baking sheet, then serve
recipe courtesy elanaspantry.com