EcoTec Living Sanctuary prototype

MCS housing specialists, ecoTECH design studio, has just announced that they are taking reservations from those interested in testing their MCS housing prototype, which will be installed on a 16-acre parcel in Quakertown, Pennsylvania. Materials for the evaluation home have been ordered and construction will begin May 23, 2011. They hope to offer the unit for testing in July 2011.
From a recent mailing:
To those who suffer from the effects of multiple chemical sensitivity we would like to introduce you to ecoTEC Living and tell you why we exist and what we are doing to turn our goals into reality for you. Our company is dedicated to designing and building health supporting, affordable, aesthetically pleasing, energy efficient housing (in that order) that will address the concerns of a significant portion of the MCS community over exposure to chemicals, Volatile Organic Compounds (VOC), and Electromagnetic Radiation (EMR). Our homes will incorporate sustainable technologies, which we believe are supportive of our primary goals.

As of today this is where we stand in bringing our goals into physical form.

1. The design work, materials research and selection testing and vetting of materials for our initial home for client evaluation is complete.
2. Arrangements have been made to produce this home under close supervision in our modular home factory.
3. We have procured the land for installation of the evaluation home.
4. Our goal is to have a test unit built, installed and available for evaluation July 1, 2011.
5. We are taking reservations for the evaluation unit from interested clients.

We have been looking for several months for an appropriate rural site for our evaluation unit. Through the generosity of Dr. William Kracht we have been given access to a gorgeous 16 acres parcel in Quakertown, Pennsylvania. Dr. Kracht is known to many of you as a preeminent MCS physician operating the Woodland Healing Research Center, a non-profit, multidisciplinary, integrative medical office. The doctor's office is quite near the location of the evaluation unit."

Special non-toxic housing features of the prototype include:
• VOC barrier separating the inside from the majority of the structural materials.
• Limited exposure to structural wood and that wood is sealed to slow emissions.
• Zero VOC paint and finishes.
• No natural gas or propane in the building.
• Significantly reduced volatile organic compounds through source control and EMF barriers and windows.
• Aldehyde sequestering wall material.
• NOx sequestering porcelain tile.
• Aluminum exterior window frames and doors.
• Aluminum and glass interior doors.
• Air Heat Exchange system with particulate and carbon filtration with full exchange per hour or two hour setting controls.
• HVAC System with on demand air cleaning and humidity control.
• Shielded electrical distribution System; Bedroom kill switch.
• Six sided integral shielding against external communication radiations.
• Internet Service (Cat 6 hardwired modem and router. (fiber optic network optional) and TV box (TV not supplied)
• Main Electrical Panel wired to minimize magnetic field generation.
• FSC Certified structural wood.
• Carbon based whole house water filter and Reverse Osmosis water filter for drinking.
• On Demand Water heater
The unit will be available for testing for up to one week per interested party. After installation and evaluation by interested clients, they will fine-tune the design and prepare for manufacturing these housing units for sale to the public. Please note that a $100/night fee to offset cleaning, utilities, and up keep on the test unit and land will be charged on a per day basis during the testing period. If you decide to purchase a home, the paid charges will be deducted from the cost of your new ecoTEC Living home.
If you would like to participate in evaluating the unit, please indicate your availability on the below card and return it to them at the address below.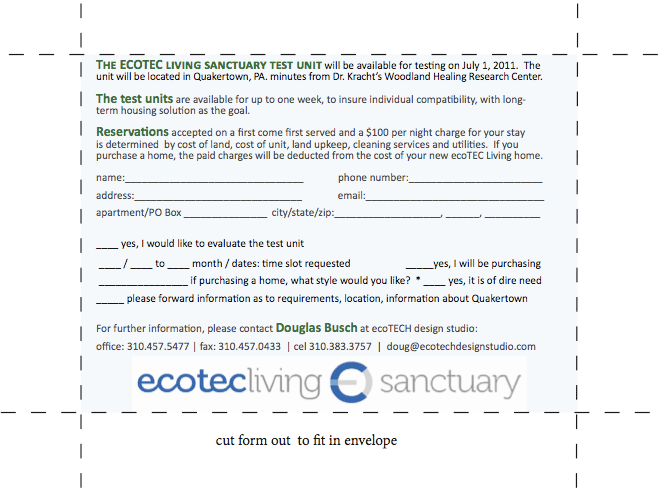 click on image to view form on separate page, for easy printing

return reservation form to:
ecotec living sanctuary
5757 Trancas Canyon Road
Malibu, CA 90265 USA