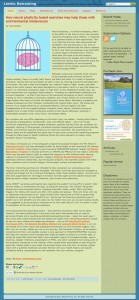 LimbicRetraining.com is a new satellite blog created by Planet Thrive that will focus exclusively on brain retraining for chemical sensitivity, chronic fatigue syndrome, fibromyalgia, and related conditions. Over the past two years, Planet Thrive has been sharing articles and interviews about the Gupta Amygdala Retraining™ Program and Dynamic Neural Retraining System™, two brain retraining programs based on neuro-linguistic programming (NLP) and other modalities aimed at calming an overactive limbic system and resetting our unconscious stress response to external stimuli. There has been huge interest in the programs and we wanted to create a clearinghouse site with easy access to resources and information for those interested in this approach.
The website is set up as a blog, with articles posted on the homepage. There are also individual pages: About (basic description of brain retraining and the purpose of the site), FAQs (myths and facts about brain retraining programs), Reading List (suggested books for inspiration and education), Brain Nourishment (dietary suggestions and nutritional supplements for brain health), Support (directory of web resources and practitioners), and Research (links to related studies and articles).
An upcoming article will compare a brain retraining program designed for autism with the MCS/CFS brain retraining programs – sign up for an email subscription to receive new posts in your inbox if you don't want to miss it!