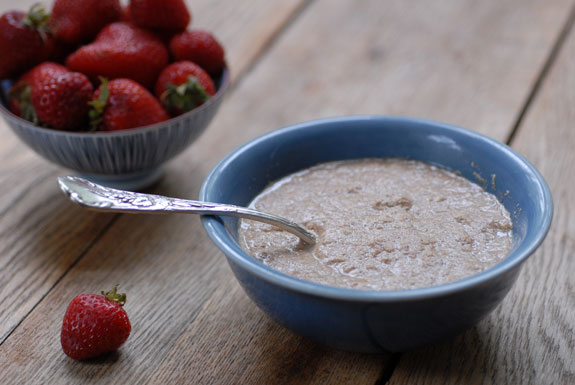 photo provided courtesy of elanaspantry.com

I discovered this hot cereal on Ricki Heller's blog, Diet Dessert and Dogs, after she tweeted it a couple of days ago.  I've had it for my gluten free breakfast every day since!  You can call it hot cereal or porridge, either way, it's a superfood way to start your day, and quick and easy at that.
What is porridge?  According to Wikipedia, porridge is a dish made by boiling grains such as oats or other cereal meals in water, milk or broth.  In fact, there are lots of ways to make a gluten free porridge, this one just happens to be my favorite, probably because it's Paleo friendly.
I grew up on Cream of Wheat (isn't that lovely). We did not eat ours with sweetener, it was a savory dish for us, with tons of butter (actually margarine) and salt.  This new gluten free breakfast brings back my memories of hot cereal during childhood.  Here's my version of the hot cereal posted on Ricki's blog (original recipe by Andrea Nakayama).

ingredients
2 tablespoons unsweetened shredded coconut
1 tablespoon pumpkin seeds
1 tablespoon flax seeds
1 tablespoon chia seeds
¼ cup walnuts
1 teaspoon cinnamon
1 cup boiling water
¼ teaspoon celtic sea salt (I like things super salty, so you may want to reduce this)

directions
Combine all ingredients in the dry container of a Vitamix
Blend until finely ground (you can try a coffee grinder, I have not, so not sure if it works)
Transfer mixture to a bowl
Pour hot water over mixture, stir, then let sit for 5 minutes to thicken
Garnish with raisins, sunflower seeds or treats of your choice
Serve

recipe courtesy elanaspantry.com