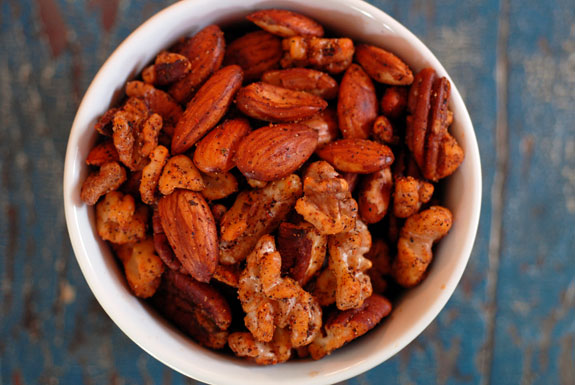 photo provided courtesy of elanaspantry.com

I'm always looking for high protein snacks to keep me going during the day, and especially after a good workout at the gym. I find this little Paleo snack (my favorite recipe for spicy nuts) slightly addictive and nicely satiating.
I like to eat nuts because they're full of good fiber, fill me up and don't leave me hungry and lagging. In fact, I keep a little tin of roasted almonds in my car at all times, just in case my blood sugar dips when I'm out with the boys or running errands.

ingredients
⅔ cup almonds
⅔ cup pecans
⅔ cup walnuts
1 teaspoon chili powder
½ teaspoon cumin
½ teaspoon black pepper
½ teaspoon celtic sea salt
1 tablespoon olive oil

directions
Place nuts in a large cast-iron skillet over medium heat
Toast until lightly browned
While nuts are toasting, prepare spice mixture
Combine chili, cumin, black pepper and salt in a small bowl
Coat nuts with olive oil, then coat with spice mixture
Serve
serves 4

recipe courtesy elanaspantry.com