posted in <<Elana's Gluten-Free Pantry > Featured > THRIVE! EXPERTS
Elana's Gluten-Free Pantry
Paleo dirty rice
another yummy gluten-free recipe from Elana's pantry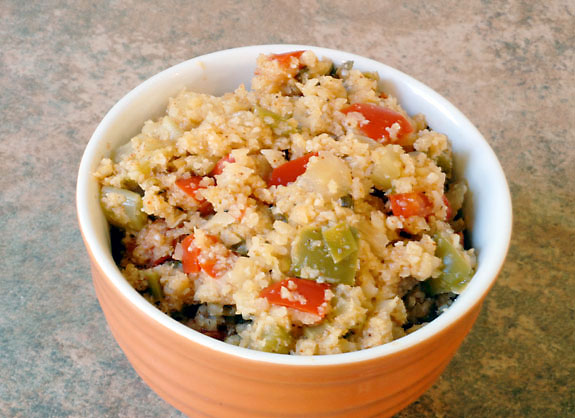 photo provided courtesy of elanaspantry.com

For those avoiding starchy high carb foods such as white rice, cauliflower rice is a wonderful alternative that is highly nutritious.
Do you like your rice dirty? According to Wikipedia, "Dirty rice is a traditional Cajun dish made from white rice cooked with small pieces of chicken liver or giblets, which give it a dark ("dirty") color and a mild but distinctive flavor." I turned my Dirty Rice into a vegetarian Paleo side dish, by leaving out the giblets, which while quite nutritious are not my favorite thing. My rice gets its dirty color from an abundance of antioxidant rich spices.

ingredients
2 tablespoons olive oil
4 cloves garlic, minced
1 cup white onion, diced
2 celery stalks, chopped
1 cup green pepper, diced
1 cup red pepper, diced
1 bunch scallions, chopped
3 cups cauliflower, riced with your food processor or box grated
1 teaspoon fresh thyme
1 bay leaf
½ teaspoon celtic sea salt
½ teaspoon pepper
¼ teaspoon chili powder
½ teaspoon cumin
2 cups chicken stock or vegetable stock

directions
Heat olive oil over medium heat in a large skillet
Add garlic, onion, celery, peppers and scallions; saute until soft
Stir in riced cauliflower, adding thyme, bay leaf, salt, pepper, chili and cumin
Add in the chicken stock (or vegetable stock)
Allow to simmer over medium-low heat, stirring frequently, for 30 minutes or so or until liquid is cooked down
serves 4-6
What are the health benefits of cauliflower? First, cauliflower is a cruciferous vegetable. That is a good thing because cruciferous veggies help with the detoxification of the body. Cauliflower is also full of antioxidants and anti-inflammatory compounds. Finally, cauliflower is full of vitamin C, vitmain K, Omega 3's and good fiber. Over here? We just can't get enough cauliflower.

recipe courtesy elanaspantry.com
Leave a reply