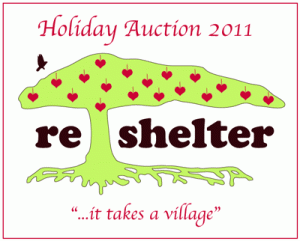 Re|shelter, the non-profit 501(c)(3) charity recently formed to address the housing crisis for those displaced by disabling environmental intolerances, is planning their first fundraising event: a Holiday Auction on eBay, to be held between Thanksgiving and Christmas 2011. The auction will benefit their planned Housing Renovation Grants program. Re|shelter is putting a call out for in-kind donations to be auctioned off on eBay, such as:
• Bottles/cases of expensive wine;

• Tickets to sporting events/Broadway shows/Vegas shows;

• Tickets to 92nd St Y lectures, etc.;

• Autographed sports paraphernalia (e.g., jerseys, baseball bats, golf balls);

• Designer handbags, shoes, clothes, etc.;

• Spa packages;

• a Bed & Breakfast weekend getaway;

• Collectibles;

• Signed art/photography prints and books by famous artists/photographers
;
• Artwork (paintings, drawings, lithography, ceramics, craftwork, etc.) by successful artists
;
• Furniture
;
• Saunas
;
• Air purifiers;

• Water purification systems
;
• Refurbished (non-toxic) travel trailers appropriate for those with environmental illness;

• Beautiful craftwork – quilts, weavings, ceramics, etc.
;
• Fine jewelry
;
• Precious gems
;
• Kitchenware (Vitamix, Blendtec, Cuisineart, Le Creuset, etc.)
and other small and big ticket items. Items do not need to cater to an EI audience; since the auction will be held on eBay, the general public will be the target market. If you have a personal relationship with someone who might be willing to donate such items to the auction, please consider speaking to them on re|shelter's behalf and securing an in-kind donation.
If you or someone you know is able to contribute product(s) to the auction, please fill out this form and email to support@reshelter.org no later than November 11, 2011. If you are unable to donate products but would like to support the re|shelter cause with a tax-deductible monetary contribution, donations can be made at: reshelter.org/donate.
For more information on re|shelter's important mission and their Holiday Auction 2011, please see the following links:
re|shelter homepage: reshelter.org
auction info: reshelter.org/auction
facebook page: facebook.com/reshelterauction
Julie Genser and Julie Laffin, co-founders of re|shelter, thank you in advance for your generosity in supporting the re|shelter cause.