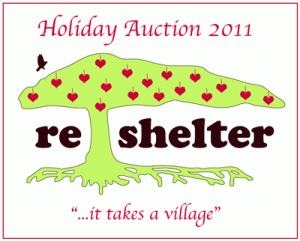 Today is the last day to submit your auction donation form for the re|shelter Holiday 2011 eBay Auction. Re|shelter is a non-profit 501(c)(3) charity recently formed to provide housing solutions for those on the verge of homelessness due to disabling environmental intolerances, which can be caused by lyme disease, mold illness, chemical injury and other health conditions. The auction is re|shelter's first fundraising event and will be held between Thanksgiving and Christmas 2011. Proceeds from the auction will go toward their Housing Renovation Grants program.
To date, the following leaders in the environmental health and wellness fields have committed in-kind donations for the auction: William J. Rea, M.D. (founder and director of the Environmental Health Center-Dallas), Martin Pall, Ph.D. (MCS/CFS researcher and author of Explaining Unexplained Illnesses), Pamela Gibson, Ph.D. (MCS researcher and author of MCS: A Survival Guide), Kris Carr (cancer wellness warrior and author of Crazy Sexy Diet), Annie Hopper (creator of the DNRS™ brain retraining program), Ashok Gupta (creator of the Gupta Amygdala Retraining™ Program), Justin Taylor (of Taylor Design Healthy Homes), Paula Baker-LaPorte (architect and author of Prescriptions for a Healthy House), Susun Weed (renowned herbalist), Doug Busch (of pHLiving, developer of first pre-fab MCS housing prototype).
Donations for the auction include books, photography, antiques, a rafting trip and hotel stay in Lake Tahoe, an organic herbal care gift basket, an online herbal correspondence course, a handmade quilt, a long distance reiki session, EFT sessions, personal training sessions, clothing, and other items.
If you or someone you know is able to contribute product(s) to the auction, please fill out this form and email to support@reshelter.org by the end of today, November 11, 2011. If you are unable to donate products but would like to support the re|shelter cause with a tax-deductible monetary contribution, donations can be made at: reshelter.org/donate.
For more information on re|shelter's important mission and their Holiday Auction 2011, please see the following links:
re|shelter homepage: reshelter.org
auction info: reshelter.org/auction
facebook page: facebook.com/reshelterauction
Julie Genser and Julie Laffin, co-founders of re|shelter, thank the community for their generosity in supporting the re|shelter cause.