posted in <<Chemical Sensitivity News > Featured > LIFESTYLE > NEWS
Fierce Bodies: Non-toxic products for the fiercely natural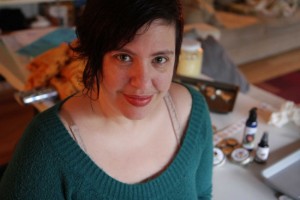 Planet Thrive is excited to announce the launch of Fierce Bodies, a new, start-up personal care product company founded by billie rain, who lives with chemical sensitivity herself. Fierce Bodies is committed to making products as natural and allergen-free as possible for those with sensitive skin and bodies. They use no chemical fragrances and try to limit using natural ingredients with strong smells that are common triggers for chemical sensitivities. Their goal is to make natural products for a range of body and hair types and income levels.

what is fierce bodies? what are you offering?
Fierce bodies is just a little company operating out of my home. We make natural, fragrance-free products for hair and skin. Right now we offer three nourishing hair styling products, an herbal scalp conditioner, and a lip balm.

what are you doing that's different from what's out there now?
One of the main differences between Fierce and other companies is that we have no fillers in any of our products. Every ingredient we use has been researched and we believe that it is an important, if not essential, part of the product. Most companies that sell products with these kinds of recipes are priced way out of reach of the average consumer. At Fierce we offer extremely high quality products at reasonable prices.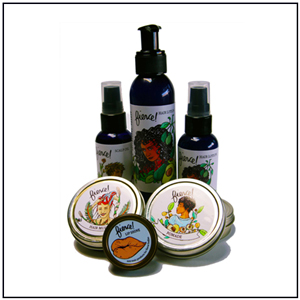 what made you want to start fierce bodies?
For the last several years, I have been living with chronic conditions that make me extremely sensitive to synthetic chemicals and fragrances. Because of this, I encourage my friends and loved ones to use natural products so I can spend time with them without exacerbating my symptoms. Over the years, I have made many products and given them as gifts. Not only are they safer for me, but everyone loves them. It was a natural progression to start developing recipes to sell to the public.

what experience did you have going in? what have you learned and taken away so far?
Starting out, I was a tinkerer in plant remedies and natural beauty. I've always had a knack for creating formulas that worked perfectly for particular health and beauty needs, and I keep people wanting more! Creating formulas for the general public is much different, however. Instead of tailoring my products for a particular person, they are for anyone. I've learned a lot about the different types of skin and hair and what they respond to. I've also learned a TON about combining ingredients!

what's next after the launch?
My favorite part of Fierce Bodies is imagining new products and finding just the right combination of ingredients to actualize my ideas. I spend a lot of time daydreaming about plants and oils and skin and hair. As far as what's up next, keep your eyes open for deliciously flavored lip shine. It's a lush life!

Now through December 31, 2011, Fierce Bodies is offering a 10% discount on all hair and lip products from their Winter 2011 line. Visit their website at fiercebodies.com to get the coupon code, learn more about their company values, and purchase their lushly natural products. These will make great stocking stuffers for the sensitive people in your life!
Leave a reply