posted in <<Elana's Gluten-Free Pantry > Featured > PT COLUMNISTS
Elana's Gluten-Free Pantry
Gluten free tart crust
another yummy gluten-free recipe from Elana's pantry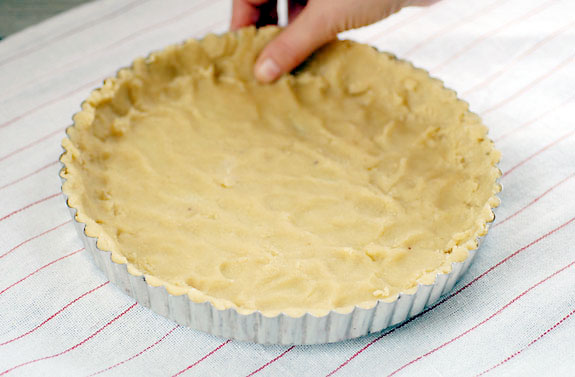 Gluten free tart crust, made with only four ingredients; the perfect base for a variety of fillings.
photo provided courtesy of elanaspantry.com

I love making gluten free crusts with almond flour. This gluten free flour is super easy to use, high in heart healthy protein and fats, and of course delicious.
If you wish to experiment and try to make a gluten free pie crust out of this tart crust, feel free. Just be sure to stop back by and let us know how it works.
I am anticipating that I will receive a lot of questions about substituting the egg in this crust recipe; to this I answer: not sure. Again, if you find an adaptation or substitution that works in this gluten free pie crust recipe please let us know how it goes. As for me, I'm very happy with how this turned out as it is a wonderful Paleo tart crust.

ingredients
2 cups blanched almond flour
½ teaspoon celtic sea salt
2 tablespoons coconut oil
1 egg

directions
Place flour and salt in food processor and pulse briefly
Add coconut oil and egg and pulse until mixture forms a ball
Press dough into a 9-inch metal tart pan
Place pie filling of your choice in crust
Bake pie as directed per pie recipe

The above is a brand new tart crust recipe. I experimented with it numerous times until I was entirely happy with the outcome. In my tests, I made it with a pecan pie filling. What will you fill your tart crust with?

recipe courtesy elanaspantry.com
Leave a reply