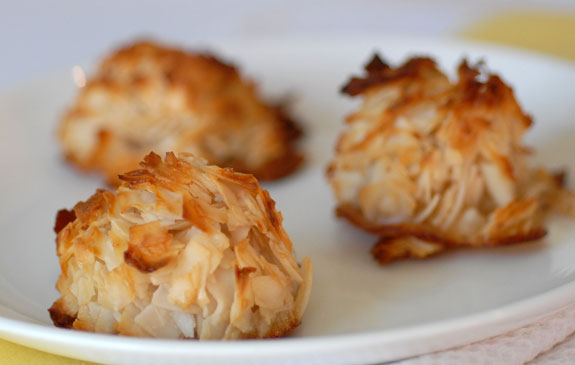 Coconut macaroons are the perfect Paleo treat for Passover and Easter.
photo provided courtesy of elanaspantry.com

With only four ingredients, this simple gluten free dessert recipe will wow your Passover or Easter guests. These primal macaroons are made of coconut, egg whites, honey and salt, making them an optimal Paleo cookie recipe. They'll be devoured within minutes!
Rather than shredded coconut, I used flaked coconut as I wanted to try something different, and I thought it would look pretty and brown nicely.

ingredients
2 large egg whites
¼ cup honey
¼ teaspoon celtic sea salt
2 ½ cups unsweetened coconut flakes

directions
In a medium bowl, whisk together egg whites and honey with a fork
Briefly whisk in salt, then stir in coconut flakes
Place bowl in fridge to chill for ½ hour
Fill a 2 tablespoon scoop with batter, so it's heaping full
Using your hand, firmly pack batter into scoop so it is level
Release batter onto a parchment lined baking sheet
Bake at 350° for 10-12 minutes, until macaroons are golden brown
Cool for 1 hour and serve
Makes 8

I don't usually have a lot of tips for the recipes I write, however, I do have a couple for this Paleo Coconut Macaroon recipe.
As noted above, I did not use shredded coconut in this recipe; I used flaked coconut which is quite different. Coconut flakes are much larger than the tiny pieces in shredded coconut. I do not know if shredded coconut will work. If you try it, please let us know how it goes.
Next, the 2 tablespoon size scoop is important for the recipe to work –a smaller scoop won't work as it will not hold the coconut flakes. I'm not sure if an even larger scoop will work as I haven't tried using one. Feel free to experiment with any size scoop you wish.
Finally, the idea to let the batter sit in the fridge comes from the macaroon recipe at paleodiet.cz. I like this method as it helps the batter set up and creates a macaroon that holds together better after it is baked.
recipe courtesy elanaspantry.com