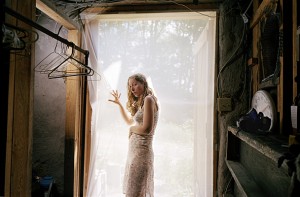 Danish photographer Thilde Jensen is seeking additional subjects to be featured in her upcoming "Canaries" book, which documents life with environmental illness. Images from her "Canaries" collection have been displayed in the NY Times, Esquire Russia and other online media, and have been exhibited at The Center For Photography At Woodstock and additional venues around the world. In March 2012, Thilde ran a successful Kickstarter Campaign, raising over $10K in order to undertake another cross country trip this spring to complete her "Canaries" series. Thilde is now looking for volunteers to be photographed as she makes her way from upstate New York to the American Southwest.
Thilde knows all too well the difficulties of living with environmental sensitivities; she suffered from the illness herself for many years. The condition broke up her marriage, forced her to relocate out of NYC, and impacted her life in many other profound ways. Taking Annie Hopper's Dynamic Neural Retraining System™ workshop in 2010 marked the beginning of her recovery, and is what enabled her to embark on this ambitious "Canaries" book project tour.
Thilde's approximate travel schedule is as follows:
early May: Texas
end of May: Greenbank, West Virginia
mid-May through mid-June: New Mexico and Arizona
late June: Northeast
early July: Pennsylvania
If you'd like to participate in this exciting project, or if you know of someone who may, please send a brief description of your situation and location, along with your phone number, to thildejensen@yahoo.com. Although there is no financial compensation for your participation, you will be contributing to helping spread awareness about this devastating, often debilitating, and generally misunderstood condition.