posted in <<Lyme & Co-Infections News > NEWS
Pre-order Buhner's book on bartonella and mycoplasma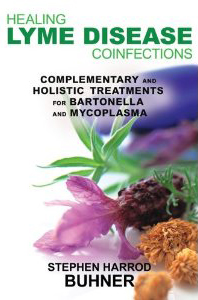 Herbalist, lyme disease researcher, and author Stephen Harrod Buhner is coming out with his long awaited book in April 2013 called Healing Lyme Disease Coinfections: Complementary and Holistic Treatments for Bartonella and Mycoplasma. Amazon is allowing customers to pre-order the book now and if the cost decreases before the book's release, you will be charged the lower of the prices. Buhner will also be writing a book on herbal antivirals and a book on babesia, anaplasma and ehrlichia. Following that, he will work on an update to his popular Healing Lyme book, with an estimated release date of Spring 2015. Amazon's official product description says about the bartonella and mycoplasma book:
A guide to the natural treatment of two of the most common and damaging coinfections of Lyme disease–Bartonella and Mycoplasma

• Reveals how these conditions often go undiagnosed, complicate Lyme treatment, and cause a host of symptoms–from arthritis to severe brain dysfunction

• Outlines natural treatments for both infections, with herbs and supplements for specific symptoms and to combat overreactions of the immune system

• Reviews the latest scientific research on Bartonella and Mycoplasma coinfections and how treatment with antibiotics is often ineffective
The description goes on to say "Distilling hundreds of peer-reviewed journal articles on the latest scientific research on Bartonella, Mycoplasma, and Lyme disease, Stephen Buhner examines the complex synergy between these infections and reveals how all three can go undiagnosed or resurface after antibiotic treatment. He explains how these coinfections create cytokine cascades in the body–essentially sending the immune system into an overblown, uncontrolled response in much the same way that rheumatoid arthritis or cancer can. Detailing effective natural holistic methods centered on herbs and supplements, such as the systemic antibacterial herb Sida acuta, which acts to protect blood cells from invading organisms, he reveals how to treat specific symptoms, interrupt the cytokine cascades, and bring the immune system back into balance as well as complement ongoing Lyme disease treatments."
Stephen Harrod Buhner lectures throughout the United States on herbal medicine, the sacredness of plants, and the intelligence of nature. His other books include Healing Lyme, The Secret Teachings of Plants, and Herbal Antibiotics. He lives in Silver City, New Mexico.
Pre-order your book today at the Buhner Healing Lyme bookstore.
Leave a reply