posted in <<Elana's Gluten-Free Pantry > Featured > PT COLUMNISTS
Elana's Gluten-Free Pantry
Gluten free pecan tart crust
another yummy gluten-free recipe from Elana's pantry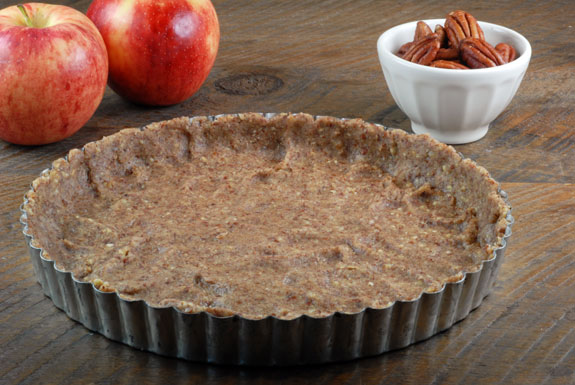 Here's a healthy paleo tart crust made from pecans, egg and coconut flour –gluten free, of course!
photo provided courtesy of elanaspantry.com

This quick and easy gluten free tart crust holds together very well and has a wonderfully nutty flavor.
The first few times I made this high protein, paleo tart crust, I had it with apple filling. I think it would be even better with the pumpkin pie filling recipe in The Gluten-Free Almond Flour Cookbook. Feel free to experiment and fill this tart crust with your favorite fall harvest fruits. A pear filling might work nicely with the pecan flavor in the crust, though I haven't yet experimented with this.
Stay tuned, next week I will post the apple filling recipe for this crust so that you can make your very own apple tart.

ingredients
1½ cups pecans
1 egg
1 tablespoon coconut flour
⅛ teaspoon celtic sea salt

directions
Place pecans in food processor and pulse until the texture of coarse gravel
Pulse in egg, coconut flour and salt until mixture forms a ball
Grease a 9-inch tart pan
Using your hands, press crust onto bottom and up sides of tart pan
Top off crust with your favorite filling
Bake until filling is done (length of time dependent upon filling recipe)
Serve
makes (1) 9″ tart crust

recipe courtesy elanaspantry.com
Leave a reply