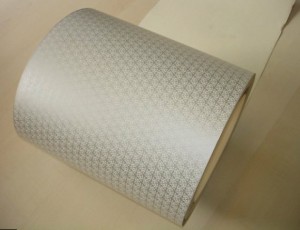 The WiFi-blocking wallpaper uses a triangular snowflake-patterned mesh to filter out selected frequencies. photo: © lnstitut Polytechnique de Grenoble.
French researchers at Institut Polytechnique de Grenoble, in cooperation with the Centre Technique du Papier, have designed MetaPaper, a wallpaper that's 99 percent effective at selectively filtering out WiFi signals without interfering with radio or cellphone signals. The wallpaper uses conductive metallic ink on nonconductive paper to block a WiFi router's operating frequencies. Developed to help with security and network speed for those using WiFi, the paper might also have applications for those with electrical sensitivity. However, in order for the wallpaper to be fully effective, you'd need to cover your walls, ceiling, windows, doors and floor. The researchers have expressed plans to develop transparent versions of the technology. Right now the paper is only a prototype and is still in development, but it should be commercially available in 2013 through a Finnish manufacturer for the same price as a traditional mid-range wallpaper (about $12 per square meter).
Pierre Lemaitre-Auger, the director of studies at Grenoble INP's ESISAR (School of Advanced Systems and Networks), shared that in addition to preventing WiFi snooping, the wallpaper could also be used in hospitals, hotels, theaters and other spaces where there is concern about interference from WiFi or where is it important to block external WiFi sources. He also said that the paper could be marketed to people concerned about sensitivity to electromagnetic waves, such as "people who want the opportunity to protect themselves and to have very low levels of radio waves in their apartment."
It seems that those with electromagnetic sensitivity severe enough to warrant wallpaper would want something that blocked all frequencies (not just WiFi) like anti-WiFi paint developed by Japanese scientists in 2009. Plus, there is the added issue of chemical sensitivity when applying wallpaper, as many with electromagnetic sensitivity are also chemically sensitive. We felt this product was worth sharing as a starting point for discussion and would like to hear your thoughts on whether this wallpaper has any real promise for those with electromagnetic sensitivity.