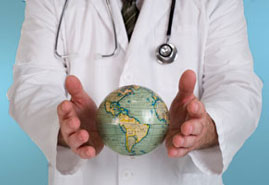 Dear Dr. Rea,
I have severe MCS, much worse due to a recent "engineered wood" floor that was to replace the previous bad carpet. Sealing the entire floor with Denny foil taped to the baseboards didn't work. I'd like to get inert tiles installed but can't get permission easily, plus they are expensive and time consuming. Now I'm forced out, essentially homeless. I use a breathing machine so I can't stay outside. The MCS is so bad that it's not survivable without emergency help – I need refuge but can't find one anywhere, let alone nearby. I need either a place that doesn't make me sick or treatment that will allow me to tolerate my place. I'm unsure if the latter is possible and can't access the former. Emergency rooms don't recognize the life threatening nature of MCS. An MCS M.D. suggested by your staff did not know what to do. I've done everything, but I have gotten worse for 22 years and have run out of options. I need a safe environment for now, then somehow a way of fixing (or tolerating) my place. How can an MCS crisis like this be solved? Thanks for any help you can provide.
Dr. Rea's response:
Suggestions for safe housing: call Pat Smith at (214) 938-6848 or the Marriott Residence Inn at (214) 368-6541. You could talk with Carolyn Gorman at our offices (214) 368-4132 regarding how to help make your home safe.
(Note from editor: Here are some additional suggestions:
1. Check out brain retraining programs and related modalities. A lot of people with MCS are finding improvement over time, sometimes within the first few weeks, by using a combination of the Dynamic Neural Retraining System™ (DNRS) by Annie Hopper, the Gupta Amygdala Retraining™ Program, FasterEFT, and other similar therapies. This might help enough to make your situation less urgent and buy you more time to renovate your home appropriately.
2. Create a safe room to sleep in; an outdoor shed, a porcelain trailer, etc. You can check reshelter.org/housing-ads for MCS safe trailers and small cottages, as well as the housing ads in Our Toxic Times, the newsletter put out by CIIN.org.
3. Check the Emergency Housing resources provided by reshelter.org. The non-profit re|shelter provides a lot of resources for those searching for safer housing on their website. You can find the articles listed at the bottom of every page of their site under the "Safer Housing Info" tab. These same resources are shared at the bottom of every page of PlanetThrive.com as well.
4. Join the Planet Thrive community. We have hundreds of wise MCS warriors who have been in similar situations to yours and offer copious housing advice to others daily. Search our Safer Housing Issues forum to find past discussions on emergency housing and creating a safe oasis. If you don't find past discussions on your topic, you can post a question in the forum to get ideas on how to renovate your home quickly to make it livable.)
William J. Rea, M.D., F.A.C.S., F.A.A.E.M.