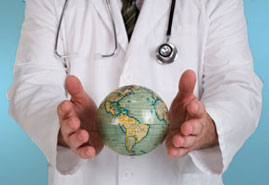 Dear Dr. Rea,
I am a chemical allergy patient here in Kansas City. I was reading on the Internet that you know surgeons who will do an inguinal hernia operation without that dreaded plastic mesh, or any mesh. My question is, do you know of anyone who will perform this operation in my area? I don't travel well. I had the other side done in 1993, when everybody did it the old way: open inguinal hernia surgery with just stiches, no mesh. The surgeon that diagnosed it today won't do it without mesh, even though it is not large. Can you refer me to anyone? Thank you.

Dr. Rea's response:
Yes, I do know of surgeons who perform inguinal hernia operations without the use of synthetic mesh, but I know of none in your area. I can recommend Ward Lane in Dallas, Texas, you can reach his office at (972) 566-7860.
William J. Rea, M.D., F.A.C.S., F.A.A.E.M.