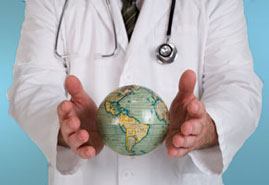 Dear Dr. Rea,
Can you tell me the name of the test and the lab that does the blood test that tells you the list of pesticides in your blood? I was reading an article that someone gave me by Robert Snyder, in HEAL of Southern Arizona, who said he got this test done at your office. I want to have this done and live in Western Massachusetts. When I worked in a clinical lab for 22 years, they regularly sprayed pesticides around us while we were working.

Dr. Rea's response:
Yes, we have given the Chlorinated Pesticides Profile by Metametrix Lab through our center. According to Metametrix, the panel "can help identify when a patient has been exposed to certain pesticides and insecticides, and how high a body burden of chlorinated pesticides the patient is carrying. This panel looks at the most commonly found chlorinated pesticides, which have national reference ranges, that have been documented to cause adverse health problems." You can reach Metametrix at (800) 221-4640 or check their website for more information on this and other tests: metametrix.com.
William J. Rea, M.D., F.A.C.S., F.A.A.E.M.