posted in <<Managing MCS > THRIVE! EXPERTS
Managing MCS
Toxic mold exposure in my office
with William J. Rea, M.D., F.A.C.S., F.A.A.E.M.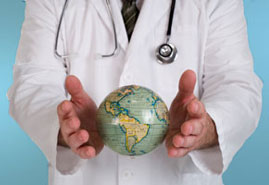 Dear Dr. Rea,
I'm currently in the Army and stationed in Germany. In February I moved to my unit's Headquarters and was given an office that was once occupied by a Captain that was suddenly found with a brain tumor. A couple months after I took his office the snow started to melt and the rain began. When it rained heavily, I would hear water dripping in the walls. I didn't really think much about it. During the summer, mold started forming on one of the walls. I easily identified it as black mold formed from water damage. About two months ago, I started having problems with my sinuses and having horrible headaches. I knew it would get better when I was not at work or when I was out of my office for a while, so I dismissed the problems as being "stressed at work." Two weeks ago, I went to my provider for a yearly well woman's exam and I was told I had a high temperature, 99.9F. I was asked if I felt sick, I told them no because at the time I was not having any cold or flu like symptoms. Shortly after that visit, I almost passed out while walking on my military post. Today, I have a headache that won't go away even though I've been at home for 4 hours, and throbbing in my nasal passage. So, the question I have after this long email is do you think my recent issues are caused by the mold in my office? Also, the Officer that I mentioned with the brain tumor, do you think his sudden brain tumor was caused by the mold in the office? Finally, will I have any permanent damage from the mold or will moving offices enough for me to be okay in the future? Should I receive some testing? Thank you.

Dr. Rea's response:
From what you shared, it is a good possibility that your recent health issues are caused by the mold in your office. It is certainly possible that the brain tumor in the Officer you mentioned was caused by the same mold infestation. You will probably be okay if you move and get appropriate treatment, but you cannot ever be sure. You should definitely get some testing by a qualified mold specialist.
William J. Rea, M.D., F.A.C.S., F.A.A.E.M.
WILLIAM J. REA, M.D. LIBRARY
Leave a reply