posted in <<Elana's Gluten-Free Pantry > Featured > PT COLUMNISTS
Elana's Gluten-Free Pantry
Gluten free chocolate Almond Joy bars
another yummy gluten-free recipe from Elana's pantry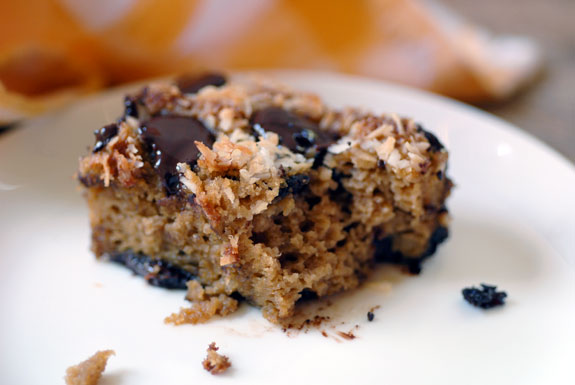 photo provided courtesy of elanaspantry.com

These gluten free Chocolate Almond Joy Bars were inspired by Carrie of GingerLemonGirl.com who wrote a recipe for Almond Joy Impossible Pie.  Who doesn't like the combination of chocolate, almonds and coconut in the form of a high protein, gluten free treat?
I don't generally discuss nutrition because I assume most people who find this site know that that my recipes are different than most other gluten free offerings. Ingredients such as almond flour and coconut flour do not compare to other gluten free flours (even those that are whole grain). Almonds are a superfood, high in protein, fiber and good fat. Coconut flour is wonderful as well, given its incredibly high fiber content. When crunching nutritional numbers in my spreadsheets, gluten free flours such as brown rice, tapioca, sorghum, cornmeal, and ingredients such as potato starch don't compare to almond and coconut flour.
Personally, I love using almond flour for gluten free desserts like cookies because while my children think they're getting sweets, I know that I'm sneaking some high protein grub into them.  It's also nice to know that with all the good protein in my desserts that the boys won't get cranky from a sudden drop in blood sugar (that's what all that good fat and protein does, it stabilizes blood sugar levels).
I like to eat these gluten free bars for breakfast if I'm in a hurry and need some "grab and go" goodness. In addition to the nutritious almond and coconut flours, they contain protein from eggs and another dose of good fat from coconut milk. Of course they're lightly sweetened and dairy free as well. Whenever I eat these before heading over to the gym, I have a great workout, especially important when I'm training with a Marine –but that's a story for another day.
ingredients
4 eggs
¾ cup coconut milk
2 teaspoons almond extract
¾ cup coconut sugar
½ cup blanched almond flour
½ cup coconut flour
¼ teaspoon celtic sea salt
½ teaspoon baking soda
¼ cup unsweetened shredded coconut
¾ cup chocolate chunks
directions
In a large bowl, whisk together eggs, coconut milk, almond extract and palm sugar
In a smaller bowl, combine almond flour, coconut flour, salt and baking soda
Mix dry ingredients into wet with a handheld mixer
Stir in ½ cup of the chocolate chips
Grease an 8 x 8 inch baking dish
Pour batter into dish, then sprinkle shredded coconut and remaining chocolate chips on top
Bake at 350° for 30 minutes
Cool for 1 hour
Serve
Here are some yummy nutritious desserts from other food bloggers that you might enjoy:
–Chocolate, Cardamom and Coconut Power Bars from Naomi of Milk for the Morning Cake
–Chocolate Raspberry Cookie Bars from Kelly of The Spunky Coconut
–Double Chocolate Clementine Vita-Mix Cake and Cupcake from Diane of The WHOLE Gang
recipe courtesy elanaspantry.com
Leave a reply