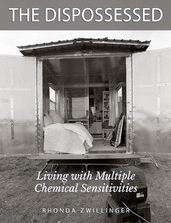 Artist Rhonda Zwillinger's seminal photo-documentary on life with chemical sensitivity, The Dispossessed, is now available as an e-book for purchase. The e-book can be downloaded with iBooks on your Mac or iPad, and with iTunes on your computer.
Rhonda Zwillinger, a worldwide renowned photographer who was instrumental in the East Village art movement of the 1980's, developed a severe case of Multiple Chemical Sensitivities (MCS) in 1991 and created this book to inform the general public of the existence and crippling nature of the disease. "MCS," she states, "is one of the most challenging public health problems of our time and the incidence is thought to be on the rise." With stories told in the first person and with photographs, The Dispossessed offers the reader a peek into the lives of more than 40 chemically sensitive people."—from a review by Hilary Melcarek, Pesticides and You, Vol. 18, No. 4
The photographs not only draw us into individual lives that have been disrupted and put in jeopardy, they also remind us of the urgent need to question the deep cultural assumptions that have led to such widespread experiments with the chemistry of our bodies and the Earth's ecosystems." – C. A. Bowers, author, "The Culture of Denial: Why the Environmental Movement Needs a Strategy for Reforming Universities and Public Schools"
At a certain point, people disabled by MCS have to leave their jobs and their communities, maybe their homes and families. They pack a few things and leave town, just go away. Rhonda Zwillinger is showing you what 'away' looks like." – Susan Molloy, M.A.; MCS Disability Policy Analyst, Snowflake, Arizona
The Dispossessed is also available as a print book (published in 1998) at rhondazwillinger.com.