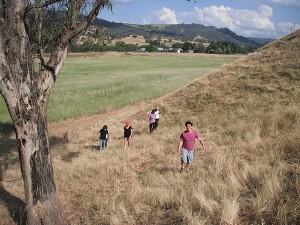 source: electroplague.com
Bruce Evans, a 49-year-old web designer who developed severe electromagnetic hypersensitivity (EHS), has put a call out for people to join him in creating a low/no EMF community on his family's land in southeast Australia. The land is located outside of Wangaratta, Victoria in the King Valley and is available for immediate occupancy. Bedrooms in Bruce's cottage are available on a first-come, first-serve basis, and others can live on the land in cars, vans, tents, or caravans. Bruce's vision includes offering the land as a destination for temporary holidays from wireless radiation, as well as a site where others can build their own homes and be a part of his community. Bruce intends for the community to have a gym (with boxing, yoga, gymnastics, and other offerings), a communal kitchen, an Internet hub for those who use computers for business or personal use, a garden for growing food, plus additional facilities as the need arises.
So here is what I want to do: I want to bring lots of people with the same condition as me to this property and declare it as a sanctuary for EHS sufferers. I want people who are prepared to defend our rights and stand up to the government and demand that we be given this one area where we can be left alone and not be irradiated. I want this area declared as a sanctuary where telcos cannot infringe."

You can read Bruce's full statement here: Bruce Evans-Australia EHS Refuge and, if interested, send him an email with details about yourself (interests, experience, abilities, ambitions, likes, dislikes, etc.) and contact info to radiationrefuge@abuconga.com.
More information about this project can also be found on electroplague.com, where the story was originally published.