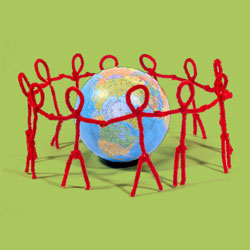 Support for those suffering from fibromyalgia syndrome.
100 Tips for Coping with Fibromyalgia and Insomnia
Snippets of advice for using natural and conventional methods to manage your fibro symptoms—an invaluable resource brought to you by Dominie Soo Bush.
Advocacy for Patients
Where patients can get free information, advice and advocacy services regarding medical records, health insurance, private disability insurance coverage, Social Security Disability Income, Americans with Disabilities Act, the Family and Medical Leave Act, work and school accommodation for chronic illnesses, and much more!
Fibromyalgia Coalition InternationalFMS Help
Dominie Bush's informative site with a good doctor/bad doctor list, articles, links, and her 100 Tips for Coping with Fibromyalgia and Insomnia.
Health and Environment Resource Center
Message boards, articles, books and other resources for anyone suffering from chronic health issues and wanting to learn more about the effect the environmental has on our health.
Immune Web
Mailing list and resource center for those with an immune system related illness such as Chronic Fatigue Syndrome, Lupus, Fibromyalgia, Epstein-Barr, and Multiple Chemical Sensitivities.
National Fibromyalgia Association (NFA)
FMS support group directory for the United States from the National Fibromyalgia Association (NFA). 714.921.0150
Reaching Out
Free support groups, advocacy, emergency and other types of support for those suffering from fibromyalgia (FMS), chronic fatigue syndrome (CFS), and myalgic encephalitis (ME).
The Buddy Program
The Buddy Program offers volunteer support and understanding to alleviate involuntary isolation among people with CFS, FM, and MCS. Volunteers offer different kinds of supportive behavior during visits or by phone 1 to 2 times a week. 773.325.1897
The Health Pursuits Reading/Study Groups
Great website of a great Canadian group: The Health Pursuits Reading/Study Groups. In 2008, they were the subject of a short study by the University of Toronto Medical School and the Envirionmental Health Clinic at Women's College Hospital, Toronto. They are the only model in the medical literature of a support group for those with FM, CFS, MCS, etc, which helps people improve while other models made people worse.
The Pediatric Network for CFS, FMS, and Orthostatic Intolerance
Online community that offers resources helpful to families coping with pediatric chronic illness.