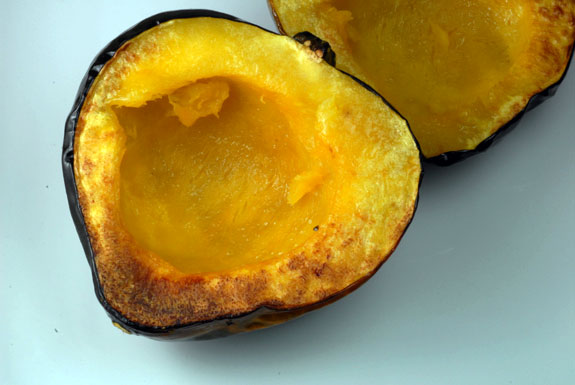 Roasted winter squash, a golden harbinger of the chilly season to come.
photo provided courtesy of elanaspantry.com

I'm obsessed with winter squash, especially when it's roasted. Acorn squash is one of my favorite vegetables in the entire world. My younger son likes it just as much as I do. In fact, he and I ate so much squash when he was a baby that he had a nice orange glow to him from an (over) abundance of beta carotene.
Now he's bigger and he still likes squash. Sometimes I make it just for the two of us. My husband and older son are not quite the squash fans that my younger son and I are.
For me winter squash is just one more amazing vegetable in the cornucopia of naturally (healthy) gluten free foods. So when people tell you it's a challenge to be gluten free, remind them of squash and maybe tell them that life just isn't that hard (at least when it comes to gluten free). Now go get yourself some squash and bake it up!

ingredients
1 acorn squash
1 teaspoon coconut oil

directions
Using a big hefty knife, cut the squash in half
Scoop out the seeds and discard or save for later use
Rub inside and out of squash with coconut oil
Place face down on a metal baking sheet
Bake at 350° for 40 to 60 minutes
Serve
I serve my squash with ground cinnamon and a touch of additional coconut oil. It tastes like an ambrosial dessert, even though squash is a healthy (and lower calorie) food.
makes 1 squash

recipe courtesy elanaspantry.com