On Sunday, November 9th at 11am CST, a group of students from Trevor Martin's Social Practice performance art class in Chicago were joined by friends and individuals from the Environmental Illness (EI) community for the simultaneous drinking of tea.
For part two of the performance, there will be a unifying walk in Chicago this Monday, November 17th at 4:30 CST based on the locations of all the tea participants from Sunday. There were about 35 people we know of who enjoyed tea together that day!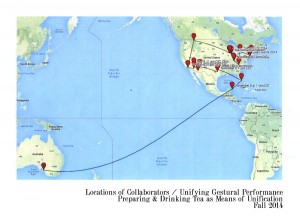 A Google map was used to plot all the locations of the tea drinkers who joined in and were able to relay their locations. The locations have now been extracted from the original map and overlaid upon a map of the city of Chicago and will serve as the route for Monday's walk.
Jeremiah Ray, Ellie O'Hallaron and Anna Liza Evangelista, the students who spearheaded the project, would like to invite you to join in (practically or even symbolically) if you can.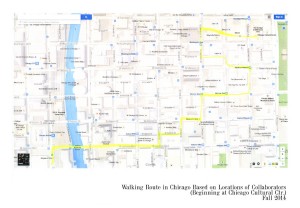 There are several ways you can participate. If you are housebound, bed bound or unable to walk for any reason, know that others are walking through Chicago with you in mind. If you care to walk in your own location, attached is the Chicago map you could follow or improvise upon if you choose to.
Before the students embark on the walk they will treat their bodies and clothing as though they were going to visit an EI friend with severe chemical sensitivities. Liz Housewright, another member of the class, has developed a protocol with baking soda that she has come up to share with her fellow students that everyone will follow in preparation for the EI unifying walk.
The idea came about during Trevor Martin's Social Practice performance class at the School of the Art Institute-Chicago. The desire behind the project is to create a "unifying gesture" conceptual, performance art piece in an effort to bring the students and the EI community together in some way. The students are learning about socially engaged art-making and working with a variety of artists including, Julie Laffin, an EI who spends summers in the Snowflake, AZ EI community.
read about the Community Tea performance art piece