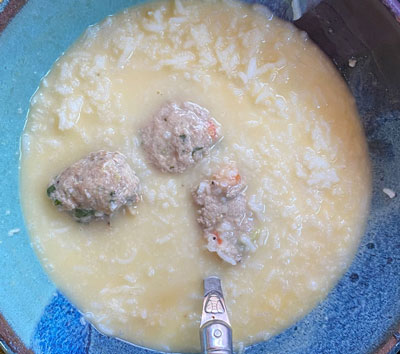 I've been enjoying a chicken broth and white rice congee porridge for the past few days. It feels so very soothing to my gut. I wanted to share the recipe so others can enjoy it, too. It's part of my gut healing protocol to help manage my chronic Crohn's Disease. I've been starting my day with an AbsorbPlus elemental shake, then a couple hours later enjoying a healing congee. This helps to give my intestines a break from digesting a lot of different foods. I can imagine that this congee would feel very nourishing if one had an upset stomach or it was a cold rainy day and you wanted to curl up with a movie and a warm bowl of soup. If you have a favorite congee recipe, I would love to hear about it in the comments section below!
Gut Healing Congee ingredients
• 2 cups pre-cooked white rice
• ~2 cups pastured chicken or bone broth to cover, plus 1″
• sea salt to taste
Optional Add-Ins:
• 1-2 pastured egg yolks (rich in choline)
• 1 TBS grass-fed butter (healthy saturated fat)
• 3-4 pre-cooked chicken-prawn meatballs (for added protein)
Gut Healing Congee method
Heat 1-2 cups of white rice with ~2 cups chicken or bone broth to cover, plus 1″. Add chicken-shrimp balls and butter, if using.
Bring to a boil and cook for a few minutes, while stirring.
Remove from heat.
Gently drop in egg yolk(s) and stir quickly to avoid cooked pieces of egg forming.
Season with sea salt, to taste.
Enjoy!
Below are the individual component recipes:
Rice ingredients
• 1-2 cups white rice (I've read that you can use any white rice for congee, except for Basmati. I used Basmati so mine may not be a typical congee.)
• 1 1/2 cups filtered or spring water (for 1 cup rice) or 3 cups water (for 2 cups ice)
• 1 TBS grass-fed butter or 1 tsp avocado oil
• sea salt to taste
• water for soaking
Rice method
Place rice in soaking water in a glass bowl overnight or at least 6 hours to remove anti-nutrients like phytic acid that can make it difficult to digest. Make sure to cover with water several inches above rice so that the anti-nutrients can be pulled out of the rice.
Drain and rinse well.
Combine soaked rice with appropriate amount of water in a saucepan.
Add butter or avocado oil, and sea salt.
Bring to a boil, then reduce to simmer and cook, covered, for 15 minutes.
Take saucepan off of heat and let sit 10 minutes with cover still on.
Fluff rice with fork and let cool.
Refrigerate until ready to use.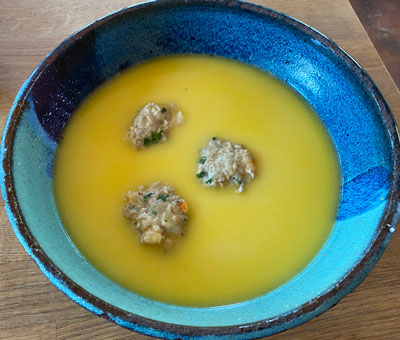 You can use store-bought chicken or bone broth but making it yourself insures quality ingredients and allows you to customize what you put in.
Broth ingredients
• 2-3 pounds chicken feet (or chicken backs) or beef marrow/knuckle bones
• 1 yellow onion, peeled and cut in half
• 1-2 carrots, cut into chunks
• 1-2 celery stalks, cut into chunks
• 1″ ginger root, peeled
• 3-5 pieces astragalus root
• 1 piece kombu
• 1/4-1/2 tsp turmeric powder
• 1 tsp sea salt
• 1/2 tsp cracked black peppercorn
• 2 tsp raw apple cider vinegar
Broth method
Put well-rinsed chicken or beef bones in an Instant Pot.
Add carrots, onion, celery, ginger, astragalus, kombu, turmeric, sea salt, cracked peppercorns, and raw apple cider vinegar.
Cover with water to the maximum fill line.
Pressure cook on high for 45 minutes.
Let cool/vent naturally.
Strain, let cool and refrigerate overnight.
Remove any fat that has congealed at the top overnight before using.
Chicken-Shrimp Balls ingredients
• 1 pound prawns or shrimp, cut into small chunks
• 1 pound ground chicken (I love to use Force of Nature's ancestral blend of chicken meat, liver, heart, skin and gizzards)
• handful cilantro, diced
• 2 scallions, diced
• 1-2″ ginger root, grated
• 1 garlic clove, minced
• 1 tsp sea salt, or to taste
• 1/2 tsp cracked black peppercorn
Chicken-Shrimp Balls method
Place prawns or shrimp in food processor or chop manually into small chunks. Do not over process.
Mix with ground chicken, cilantro, scallions, ginger, garlic, sea salt, and black peppercorn in a large bowl.
Use your hands to combine well, without over-working.
Saute in avocado oil on a skillet, browning on all sides for 1-2 minutes each side.
Let cool and freeze, or refrigerate for use within 1-2 days.