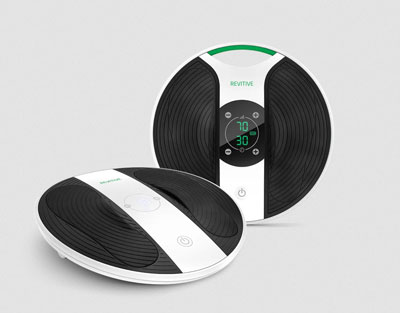 I would love to share with you this month about a powerful healing device I've been using the past couple of months: Revitive. Revitive is marketed as a circulation booster (electrical pulsing stimulates and strengthens the muscles and tendons in your feet and calves) to relieve tired, aching, swollen legs and feet, and actively improve circulation. It is essentially a disc-shaped device with foot pads through which you receive electrical stimulation. You control the strength of the pulse and the length of your sessions. As you receive the electrical stimulation, it causes your feet and leg muscles to contract and release. It is designed to allow the unit to rock back and forth gently to allow for these contractions.
The Revitive is wonderful for those with a chronic, sedentary lifestyle. It uses OxyWave®, their unique Electrical Muscle Stimulation (EMS) technology, to help drive nutrient-rich, oxygenated blood to the legs and feet – which can help relieve achy-feeling legs and reduce swollen feet and ankles during use. It is an FDA-cleared medical device that is clinically proven to boost circulation in the legs and feet during use and has been developed and tested by physical therapists and vascular surgeons. Almost 3 million people to date have purchased a Revitive device to help boost circulation in their feet and legs.
I didn't buy it primarily for its circulation benefits, although I very much appreciate that, as I have had a sedentary lifestyle due to chronic illness for years. I bought it because I read on another chronic illness warrior's website (Travis Burch) that it is also a "free electron donor." What in the world is that, you may ask?!
Well, our bodies are "redox" systems — they take (oxidize) electrons for energy from storage spaces in our bodies and deliver that energy wherever it is needed. Some of it goes to our connective tissues where it can nullify free radicals before they do damage. As these free electrons are used up as energy to power bodily processes, we can replenish them by grounding; standing barefoot on wet grass, earth or sand, and by spending time in natural bodies of water. But due to the "civilized" indoor/office lifestyle of modern times, and combined with chronic illness conditions, many of us lack energy/free electrons to power our bodies optimally.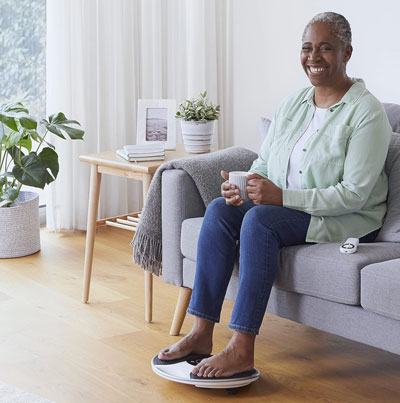 According to Travis, electron donor devices like the Revitive can help. The Revitive medical device is essentially a TENS (Transcutaneous Electrical Nerve Stimulation) unit with large electrode foot pads, and and Travis claims it is capable of delivering significant amounts of free electrons to your body — more than you would get from standing barefoot on Earth. So while it's marketed as a circulation booster, it may also be a wonderful delivery system for free electrons.
I wrote to the company that makes it to confirm it donates free electrons through the feet, but the representative who replied (and checked with their technical team) could neither confirm nor deny this claim. They are unfamiliar with the concept and are sticking to marketing it for use as the FDA has approved it for: as a circulation booster.
I can report, however, that after building up from one 30 minute session a day to four 30 minute sessions a day (2 hours total), and starting at an intensity of 20 and slowly working my way up to 40, the nurse I go to for my regular vitamin IVs exclaimed, "What did you do?!" after taking my blood pressure and pulse. My heart rate has been over 100 for years and suddenly, it had dropped to 79 (a much healthier level). It was not a one-time occurrence, either — we've been checking every time I get an IV and it has consistently remained in the low 80s. She also shared that my blood looked brighter and healthier — in the past it has looked darker and was thick/slow-moving, a common observation with Lyme patients. I am so pleased with these fairly immediate results! I feel hopeful and cannot wait to see what else improves over time with regular use.
You can buy a brand new Revitive or a refurbished model at a discount through their website. They are easy to use if you are able to sit in a chair for 30 minutes at a time, and can put your bare feet on the device. I use it while bingeing on Netflix or writing articles like these! I find that if I moisturize my feet immediately before using the Revitive, I get the best results. If you are sensitive like me, please read this article by Travis Burch: REVITIVE: How to Get Started. He says this device has been instrumental in his healing from biotoxin illness.
You can find the Revitive and other powerful healing resources on the Planet Thrive directory.