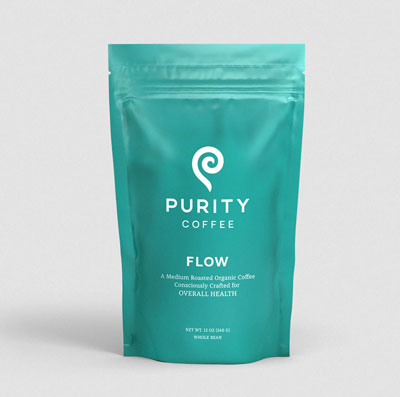 This month we are excited to share about Purity Coffee, a coffee brand being promoted within the histamine intolerance, Multiple Chemical Sensitivity (MCS) and Mast Cell Activation Syndrome (MCAS) communities. For many of us with chronic illness, coffee was a guilty pleasure that we were forced to give up at some point in our recovery journey. I used to treat myself to breakfast out once a month, and my "cappuccino with almond milk and no sugar" was the highlight of my meal. My digestion declined to a point last year where even decaf coffee would ruin my day. I would feel sick to my stomach, and just all around terrible, even after a few sips. What once used to give me a lift and boost my energy and mood for an entire day was now ruining my day. It's been at least a year since I've enjoyed my cappuccinos.
I heard about Purity Coffee through the Mastering Mast Cell Activation Summit (when you register for this free, online event taking place in mid-October, you get immediate access to several PDF booklets, including one from Purity Coffee). Purity Coffee is always organic and pesticide-free. They source specialty-grade beans using very strict standards. All coffee is tested to ensure it is free of mold and mycotoxins. Purity Coffee has up to 2x the antioxidants of other leading brands and is roasted for maximum health benefits. What's more, they ship within 48 hours of roasting for optimal freshness.
How is Purity Coffee® Different from Other Organic Coffee Brands?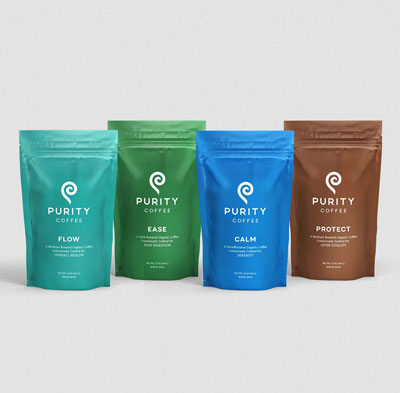 Purity is the only organic coffee company worldwide that is entirely focused on maximizing health benefits throughout every step of the production process. While there are other organic coffee companies you can order from online, even organic coffee grown without pesticides can come up short when it comes to standards that make truly healthy coffee. At Purity, their organic coffee is specialty grade, an industry standard for coffee of the highest quality of taste and crop integrity in a transparent chain of custody. Only about 1% of the coffee produced worldwide is 3rd party certified as organic, sustainable and specialty grade. They also rigorously test their rare coffees to confirm they are free of mycotoxins, adhere to cGMPs to avoid mold or contamination, roast to minimize unhealthy byproducts (like acrylamide), and nitrogen-flush their packaging to maximize antioxidants. Simply put – Purity Coffee is organic coffee done right.
PURITY COFFEE AND MAST CELL ACTIVATION SYNDROME (MCAS)
Over the past few years, Purity Coffee® has received a growing number of messages from customers who have food sensitivities, histamine intolerance or Mast Cell Activation Syndrome (MCAS). These customers express how they need to limit the intake of various categories of foods or else suffer from painful reactions. Because coffee is a common trigger for those who struggle with histamine intolerance and MCAS, they are naturally overjoyed upon finally discovering a coffee that can be enjoyed without adverse effects.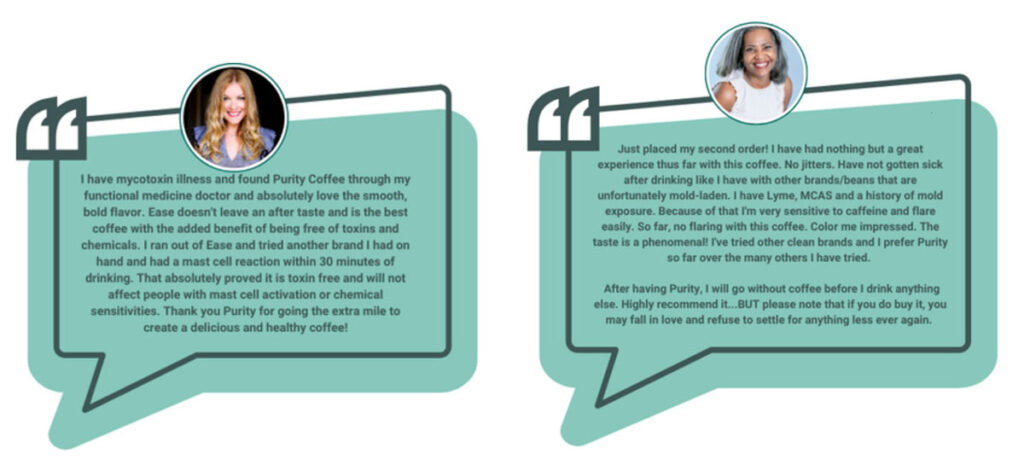 WHAT DOES PURITY COFFEE® DO THAT LIMITS HISTAMINE OR MCAS REACTIONS?
Only the top quality (called "specialty grade"), certified organic, hand-picked, ripened fruits are picked to ensure the coffee is not under-ripe or problematic. Purity tests for antioxidants and other nutrients and chooses coffees that are at high levels. They then roast conscientiously to retain as much antioxidant capacity as possible for each type of coffee. Finally, they employ strict food safety measures and current Good Manufacturing Practices (cGMPs). They also lab test their coffees for pesticides, mold, mycotoxins, heavy metals, and other contaminants that could cause problems. Purity only chooses the cleanest and purest coffees.
All of their coffees are grown on regenerative organic farms, meeting the highest standards in the world for soil health. Although they cannot establish a direct link between their farming practices and the positive effect this might have on histamine in their coffee, this is something they are studying. They just know that what is good for the environment is good for people as well.
Purity encourages everyone to listen to their own bodies, and they hope that for those who love coffee and want to keep it in their diet, Purity Coffee® makes them feel good. Coffee has been shown to have numerous health benefits, many of which could potentially help those with MCAS:
Coffee has significant levels of polyphenols such as chlorogenic acids (CGA), which exert a variety of positive biological effects, including anti-inflammatory and anti-bacterial properties.
Chlorogenic acids have demonstrated a decrease in immune and inflammatory markers in the liver, and…
CGA and their lactones (CGL) also have demonstrated hypoglycemic and neuroprotective properties.
For those who are sensitive to caffeine, their Swiss Water® decaffeinated coffee tastes exceptional, is loaded with CGA, and is produced using the same high standards for health and purity.