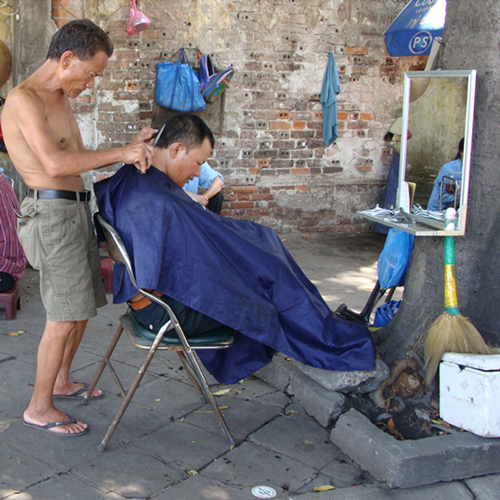 By Jon Wick (originally posted to Flickr as Sidewalk Cut) [CC-BY-2.0 (www.creativecommons.org/licenses/by/2.0)], via Wikimedia Commons

I haven't had a hair trim in three years. I haven't had a real stylish haircut in over five years. Not because I was growing my hair out, or didn't have the cash. The reason I haven't had a real haircut in so long is that I have reactive airway disease (RADS) and I am intolerant of chemicals and the fragrances you find in abundance in a typical hair salon. My lungs are so reactive to synthetic chemicals and organic essential oils that I can't even do as they do in Vietnam (see photo above) and get my haircut outside by someone who works in a salon and/or uses scented body care products. I am considering taking the plunge and trying to cut my hair myself, but recently did a search online for less toxic hair salons and stylists to see if I could find any near me and was surprised to find quite a few across the country, which I list below by state.
These are not scent-free salons, but most of them seem to have an awareness of chemical sensitivity and a focus on organic, chemical free hair care products. Many do use products with natural essential oils so the salon environment won't be entirely "safe" for someone like me. But these are good places to start looking if you are chemically sensitive and in desperate need of a haircut. Maybe one of the stylists can cut your hair outside if the salon is not tolerable to you.
I hope that other less toxic salon owners and fragrance free stylists will list their websites in the comments section below.

Arizona
Purettues Hair Salon Maricopa
(480) 861-0290
Pure Salon Scottsdale
"After years of using toxic salon products, we found that there are healthy alternatives. Our mission is to make you aware that you can get the same results with non toxic color, lighteners, and even a 100% natural thermal straightener without the harmful side effects."
The Sanctuary Tucson
"The Santuary appeals especially to women and men who are chemically sensitive or suffer from allergies. All of our treatments are cutom blends of essential oils, herbs, and organic fruits and vegetables. Our hair colors, for example, are made of vegetable matter, and our permanent solutions are made of natural enzymes. We employ aromatherapy and make evry effort to create a serene atmosphere."
 
California
Elemental Salon Albany
510-527-6226
"run by 2 women, both committed to not using chemicals in their business"
Florescence Berkeley
"Because we are non-toxic AND private we can also provide a wonderful experience for those that otherwise would not be able to visit the usual salon environment: pregnant or nursing mothers, clients with mild chemical sensitivities, those who would benefit from a private or quiet setting."
 
Illinois
Great Haircuts by Lucille Northwest Suburbs of Chicago
"MCS Cosmetologist looking for clients in the Chicagoland area, preferably northwest suburbs. 22 years of experience, I do haircuts only – in a safe environment free of chemicals and typical salon pollution. I do excellent hair cuts- specializing in men haircuts and creative short haircuts for women. I can be reached at GreatHaircutsbyLucille@hotmail.com. Website coming soon."
 
Maryland
My Organic Salon Rockville
"Welcome to a healthier salon experience, free of the toxic chemical products typically found in other hair salons…A salon environment that is safe for those with chemical sensitivities or other health related concerns. My Organic Salon does not use products with synthetic fragrance or abrasive chemicals."
 
Minnesota
Nurturing You Beyond Organic SalonSpa Minneapolis
"Nurturing You Beyond Organic Salon Spa's unique toxin-free environment stands alone in the Twin Cities and provides an alternative for those with chemical sensitivities, as well as for those who are making the conscious choice to use organic products and services."
New Jersey
Verde Salon Collingswood
"The space was constructed with painstaking attention to environmentally friendly details. Low or no-VOC (Volatile Organic Compounds) paints and finishes were used to drastically improve air quality and safety, especially for people with chemical sensitivities."
 
New York
Grace Heaven Salon NYC
"A salon where beautiful cuts and color peacefully coexist with the best in natural hair care. Synthetic fragrances and toxic ingredients have no place in our salon, but don't think we're a dippy patchouli palace; style's still our obsession.
The brands we choose to use are gentle, fume-free, and ideal for people with chemical sensitivities or color junkies concerned about their hair's health. One of our herbal color lines can even be safely used by pregnant women."
 
North Carolina
Mind Body Spirit Salon Raleigh
"Currently I have been able to start incorporating the next steps of my visions, blending professional quality services and products with non-toxic in mind. Not an easy feat, but I believe it is so important to start looking in this direction and working toward controlling the chemicals in our personal environment. Even if most people can't eliminate the majority of excess chemicals they are exposed to (and I am one of them), every little bit helps especially if it comes in direct contact with our skin.
I look forward to continually expanding my business and visions toward an alternative salon and healing center that maintains the peaceful relaxing environment where my clients come first and the exploration of beneficial processes and products to restore balance to our mind, body and spirit. "
 
Oregon
Eco Salon Eugene
"After working in unhealthy settings for too many years, two sisters suffering chemical sensitivities decided to open a salon that defied the toxic norm.  The result is a relaxing and positive atmosphere with superior salon air quality and more eco friendly hair care products and services."
Gilly's Salon Portland
"…a nasty chemical free salon is an awesome thing for delicate flowers like me, who having multiple chemical sensitivities."
 
Washington
Chadwicks Chemically Sensitive Salon Mountlake Terrace
"I did a lot of research to create a safer salon environment. Everything had to be taken into consideration: salon products, remodeling materials, water and air filtration, and much more. I now offer a full line of salon services, using nontoxic hair and skin care products. The shampoos and conditioners are natural. The perms and colors I use contain no inorganic or poisonous ingredients."
Bliss Organic Salon Monroe
"Gentle hair services for the health conscious and chemically sensitive."
 
CANADA
Pure Joy Ottawa
"If you have chemical-sensitivities, are sensitive to fragrance, are serious about stepping lightly on the earth, or just want healthier hair, consider Pure Joy for your hair-styling needs in Ottawa."
JuJu Beauty Vancouver
"If you have chemical-sensitivities, are sensitive to fragrance, are serious about stepping lightly on the earth, or just want healthier hair, consider JUJU for your hair-styling needs in Vancouver."