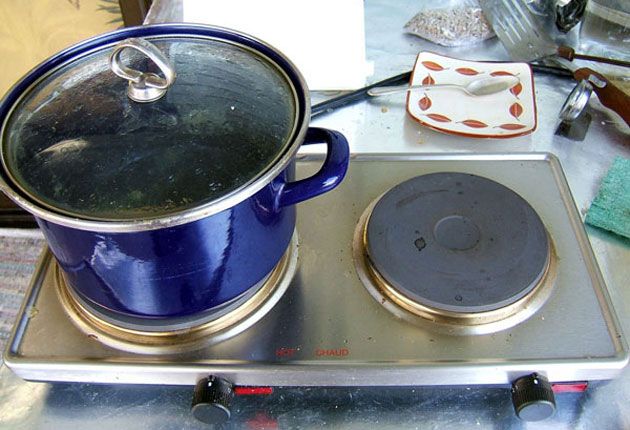 Many with environmental illness will eventually find that cooking with a standard gas oven makes them very ill. In fact, William J. Rea, M.D., director of the Environmental Health Center in Dallas has said in his Planet Thrive Q & A column that "no one with chemical sensitivity can live around or with natural gas and expect to get well." The obvious solution is to go electric, but what about those with severe electrical sensitivity who cannot use electric stoves or hot plates? Not to worry! Aside from adapting a completely raw foods diet, there are a whole bunch of options for heating and cooking food. I've surveyed those with both severe chemical and electrical sensitivities in my community and present an array of available options for the "ovenless kitchen" below.
ELECTRIC OPTIONS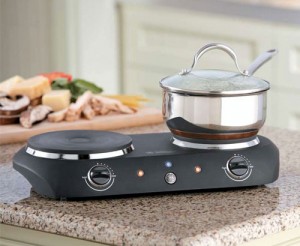 Electric stovetop
Some will use just the stovetop on their electric oven. When I stayed at an MCS-safe residence equipped with an electric oven, I was only able to tolerate the lower EMFs of the stovetop. Supplemented occasionally with a crockpot and toaster oven, this setup suited me just fine.
Electric hotplate
My current kitchen set up consists of a crockpot and electric hotplate. I've even discovered that a crockpot is unnecessary; I can approximate the crockpot using a saute pan on the hotplate. It can be difficult to get water to a boil, especially with larger pots, and challenging to control the heat level. But all-in-all, I love my hotplate! I use a General Electric single burner but they also make a double burner.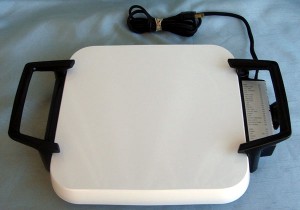 Vintage electric hotplate
Jen, a member of Planet Thrive, once recommended I search for a vintage hotplate like the Corning Ware Electromatic Hotplate, with heating elements completely contained within a ceramic plate. I bought one but it's still off-gassing so I can't comment yet. But you can find them on eBay or try a Google search. When you purchase any used product, you are taking a chance the item is contaminated with a chemical or pesticide—to minimize your risk, ask the seller how the item was used and/or stored, and be sure to wash it well and off-gas once you receive it.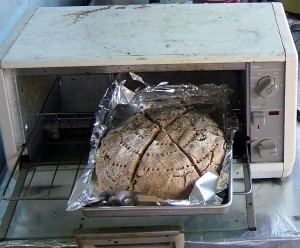 Electric toaster oven
Mokihana and Pete use their toaster oven to bake simple quick breads, salmon filets, baked potatoes, squash, oven fried potatoes, and—we're guessing—to occasionally make toast. I've made some amazing sweet potato fries in a toaster oven (drizzle with olive oil, sea salt, pepper, and cayenne). As with all appliances, you'll need to off-gas this first before using it if you buy it new. Many with EI will purchase a new appliance and trade it with a relative in exchange for their well off-gassed used version. (photo © Mokihana Calizar)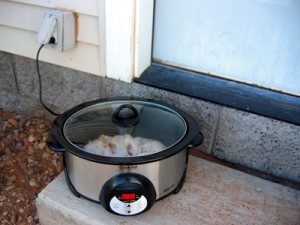 Crockpot
A good 'ole electric crockpot with stoneware pot and glass top can turn very plainly prepared chicken into a gourmet's feast. Just dab with olive oil, sea salt, and whatever other tolerable spices you have on hand and 3-6 hours later (depending on the heat setting you choose) you'll have a delicious melt-in-your-mouth dish. You can add vegetables with water to cover for a complete meal. I've also made a mean pot roast using grass-fed brisket drizzled with olive oil, sea salt and pepper on a layer of cut carrots and celery, then covered with fresh tomato slices. (photo © Julie Genser)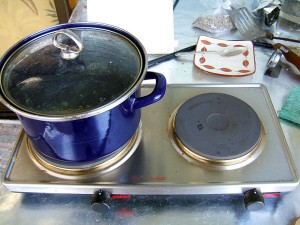 Professional heavy duty stainless steel and cast iron cook top
Mokihana of VardoForTwo writes in her blog: "This is the appliance that has kicked up our Tiny Home Cookin' in magnificent fashion. Any one who's cooked on an electric hot plate knows the frustration of its unpredictable nature. It's hard to regulate and maintain temperature with a hot plate. THAT PROBLEMS DISAPPEARS with this Broil King cast iron double burner beauty. This is a GOOD STOVE in miniature…After buying at least four hot plates in less than four years, there is a better solution. It costs more but the price is worth the quality of the cooking, and it is easy on the electricity as well. The cast iron elements maintain their temperature, and once hot they will either draw very little electricity or not draw at all." (excerpted with permission, photo © Mokihana Calizar)
NON-ELECTRIC OPTIONS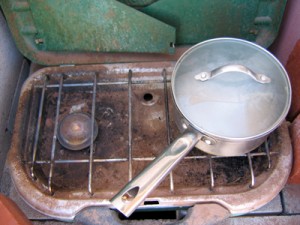 Propane camping stovetop
Steen is severely electrically sensitive and has gotten by using a standard camping propane stovetop (used outdoors, of course) for many years. He can cook toast on it but his usual fare is simple all-in-one meals like bison with rice and green peppers or chicken, carrots and quinoa. One of his favorite non-electric "self-reliance" catalogs is Lehman's, which sells cast iron griddles, porcelain over steel pizza pans, and other helpful items if you are both chemically and electrically sensitive. (photo © Julie Genser)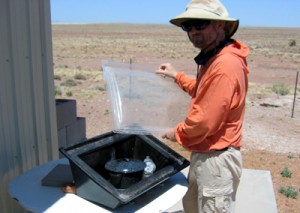 Solar oven
To supplement his all-in-one meals at times, Steen likes to cook beans separately in his solar oven. He puts them in a pot in the morning and the beans are ready by suppertime. Some might say that a solar oven is the non-electric equivalent of a crockpot in terms of cooking time and convenience. I've read that one only needs direct sunlight to use a solar oven successfully; even if it's cold out. If you have experience with this, please share in the comments section below. (photo © Julie Genser)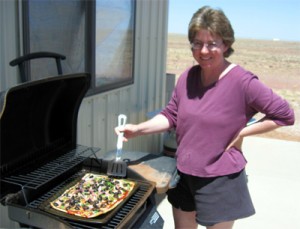 Propane barbecue grill
Dawn has perfected a pizza-on-the-grill recipe for cooking on an outdoor propane grill. She says that any kind of baking can be done on the grill—the secret is to use a double bottomed baking pan. For a pizza, she prepares it directly in the double bottomed pan. For pies or muffins she places the double bottomed pan on the grill, then puts the pie plate or muffin tin on top of it because she says most items placed directly on the grill will get too hot. Here's a link to a double bottomed pan that's not non-stick coated, or try Lehman's porcelain over steel pizza pan—check the size before buying to make sure it will fit on your grill! (photo © Julie Genser)
Want to make pizza-on-the-grill? Try Dawn's recipe or adapt it to your own: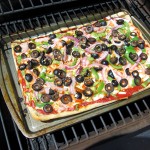 Gluten-Free Pizza on the Grill
• 1 package Namaste Pizza Crust Mix
• 8-12 oz. thick tomato sauce
• 8 oz. shredded mozzarella cheese
• various toppings; thinly sliced onions, peppers, black olives, cooked sausage, etc.
Prepare the crust mix according to directions and spread by hand into an oiled double bottom baking sheet approximately 10 x 15 inches. Turn a standard sized grill up to 3/4 power on both sides. Bake crust for 10 minutes, then add sauce, cheese, and toppings and bake another 10 minutes or until crust starts to brown and cheese is melted. Baking times on the grill are approximate. A lower power grill or lower flame will take longer, but the product will still come out good. In a strong wind a higher flame is needed or longer cooking time.
MISCELLANEOUS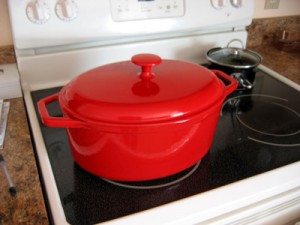 Dutch oven
JoAnne uses a Dutch oven to bake made-from-scratch amaranth breadsticks and other goodies.
She recommends Color Cast Dutch ovens made of porcelain-enameled cast iron. They come in red, blue and other fun colors.
(photo © Julie Genser)