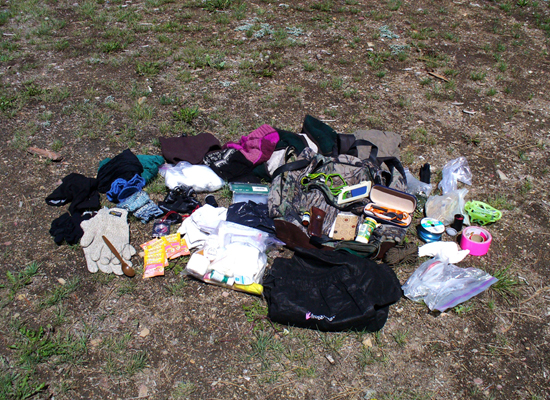 My "go bag" with a majority of my survival gear.
This is part 4 in a series of "EI Homelessness" posts I have written on issues regarding weather, gear, clothing, food, etc. when forced to live outdoors due to environmental illness. Section one addressed shelter and security. Section two was on water, food and hygiene. Section three was on clothing. This section will deal with survival gear, and the final installment is on first aid.
SURVIVAL GEAR
If you are going into the remote places of the national forests, BLM (Bureau of Land Management areas), state lands, etc. you MUST be prepared for bad weather, breakdowns with the vehicle and/or equipment and for properly navigating the area. Here is my list of what you may need:
• Maps of the national forest, national parks, state land, etc. You need to have these to be able to navigate the roads and not wind up on an ATV trail and get stuck. Yes, I have inadvertently took off up a mountain on what I thought was a small two track that turned out to be for ATV's only. It was only until it actually narrowed to one trail that I realized my error. It was rather humorous for the people going by however. These maps are available at any national forest ranger station as well as national park offices. You can also purchase them online, but they are more expensive this way because you pay shipping and handling. Outdoor stores/backpacking stores carry maps of the national forest and national parks as well. It is also VERY important that you have maps of the states you are traveling because these will show where the campgrounds are as well as the ranger stations. It will also help you navigate the pitfalls of large cities, agricultural areas, swamps, etc. Get acquainted with not only the area but the state as well.
• Three mylar (or more) survival blankets. These are best used inside a sleeping bag (or outside if you need to keep the bag dry. They also are great for signaling people if you are in distress.
• Sleeping bag. I have a preference for synthetic fill because it is easier to maintain than down since I am homeless and do not have the luxury of fluffing the down up in a dryer. Down also gets compressed which causes it to lose its insulation factor where synthetic takes longer to get compressed. The shells are typically nylon and or polyester, similar to tent fabric because of the need to have "rip stop" fabric in case the bag does get ripped. Bags come in many ratings, usually from 45 degrees to 30 degrees below zero. A good rule of thumb is that if a bag is rated 10 below, it really is a 0 degree bag. I am not sure why this works out, but it does. The lower the temperature rating, the more expensive. So if you need to, get a 0 degree (10 degree) bag and use a mylar survival blanket as a liner. If in the north, I would not get a bag rated any less than 20 degrees below zero (which is actually 10 degrees below zero). You MUST stay warm. You can achieve this in a number of ways, but do not mess around with a "system" when the wind chill is 20 below and you're screwing around in your car trying to get it right.
• Wool blankets (NOT cotton). Again, to each their own. If wool doesn't work, then use a synthetic. Cotton blankets are not a good idea in the winter or damp weather because it will get damp and hold moisture there by wicking your body heat out and lowering it. There is a reason why cotton is called the "death cloth" when it comes to outdoor survival. I have an old (very old) army wool blanket. Yes, it took a while to get it usable, but the effort is well worth it. Yes, there will be all kinds of "stuff" in the blankets (again I cannot afford to get my stuff from high end stores. I have to get things as cheaply as possible and make it work.) Best way to get the blankets off gassed and cleaned is to hang them out in the elements as much as possible. Sun, wind, rain everyday if you can. Wash with cold water and soap (I use 7th Gen or Sal Suds). I got my blanket for about $15 at an army surplus store.
• Rain gear. I have pants and jacket. You will need the pants for wading through wet foliage on your way to the "latrine". Getting wet when you cannot build a fire can be dangerous. Should your clothing get wet, change immediately into dry clothing. If you can't get rain gear then make a poncho out of large, contractor size garbage bags. These are huge and will cover you completely and the bonus is NO FRAGRANCES! Garbage bag manufacturers are no longer labeling their products as scented (at least some of the ones I've bought).
• Flashlights. A must is a three D cell Maglight. This is not only a great flashlight but it is durable and a great weapon if need be. It is all metal and fairly heavy. You should also have at least two other sources of light such as a headlamp (fairly inexpensive), which is a necessity so you can have both hands free, and a "mini-Maglight" that is a two AA cell LED flashlight. As far as those who have sensitivities to LED light, I believe there might still be some flashlights left that are non-LED. I use LED because I actually want to see in the dark and see where I am going.
• Knives (yes, plural). First, know the laws in your state. Some states have laws limiting the size of knife you can carry. Secondly, remember to take it off before going to public places, some people are very sensitive to the sight of a knife and may misinterpret why you are wearing it (unless you're in Montana. Just take it off before going into the courthouse or bank, ha ha ha). There are a number of well known knife makers like Buck and Gerber that make good outdoor utility knives. I have at least four.
I recommend getting two knives that have 3-4 inch blades that can be opened with one hand. Gerber calls these "F.A.S.T" knives. These have a button on the handle that you press (a switch that goes up or down) and a knob on the blade that you push with your thumb and it will flick open. On the surface these look like switchblades. They are not. They have a two step process that can be used with one hand. This is absolutely a must outdoors. I can't tell you how many times I have had my hand caught on something (or in) and needed to cut whatever was trapping my hand (usually rope in high tension due to high winds). Another knife would be a small 2 inch blade.
Lastly is the Leatherman. This is a square, metal version of the Swiss Army knife with some of the same tools. I have a "mini-Leatherman" which has been great for repairing eye glasses (small screw head), digging out slivers (and other foreign objects), etc. If you get a knife then you need to get a whetstone for sharpening them.
• Good work or leather gloves. Get whatever you can tolerate, but I don't recommend fabric gardening gloves because they will get destroyed after a few uses (digging rocks, roots, etc). I have a pair of pig skin gloves (Wells Lamont). These are indestructible. I also have a couple pair of Mechanix gloves that are leather and nylon. There are also cloth gloves with rubber palms and finger tips. You'll just need to experiment with what works for you. Ultimately, you need to protect your hands.
• 100lb test fishing line and some fishing hooks. The fishing line is great for a variety of things, including setting trip lines to deter nosy people from coming in at night.
• A compass and a whistle. Quite frankly I don't see much value in the whistle if no one is around to hear you, but I still carry one just in case I need rescuing. Learn how to use a compass so you can track your location. Should you need to call for help you need to give the dispatcher good directions on how to find you. Telling them that you're on a forest service road out by a lake isn't going to help. Pay attention to what forest service road you are on (they are marked in white numbers on a brown background) and how many miles back you are. Know what national forest you are in and the nearest cross roads with the highway. There have been people who have died because they could not give dispatch accurate information on their whereabouts.
• Wool vest, wool socks, wool pants. During the fall and winter months I carry these in my backpack for "just in case".
• Duct tape and surveyors tape. Get some brightly colored duct tape (available cheap at either Staples or Walmart). Surveyors ribbon is light plastic ribbon that should be available in hardware stores or Walmart's hardware department. If you are out in the woods for a walk and you are not very adept at reading a map or compass then tie these every 100 yards or so. This is like "bread crumbs" that the animals won't eat (except for stupid cows, long story). Duct tape also has many other uses such as short term repairs, reinforcing axe handles, getting slivers out, etc.
• Trioxylene tablets. I covered these back in the "Food" section. They are used in the military and can be used to cook food in aluminum containers and/or for starting a campfire.
• Matches, preferably waterproof or a flint that can be used wet or dry.
• About 50 feet of 550lb parachute cord. This can be used to string up a makeshift shelter if needed.
• An axe or hatchet.
• A hand saw. Available at pretty much any outdoor/sporting goods stores and large retailers who have a sporting goods section OR hardware stores.
• A metal hand trowel and toilet paper. (Covered in the opening of this section.)
• Silk glove liners and sock liners. These are worn as a first layer in extreme conditions.
• Long johns (covered in the clothing section).
• Wool gloves. I have ones that have Thinsulate and are indispensable.
• Balaclava. These go over the head and cover the neck and face. They are usually spandex and nylon or spandex and polyester. You NEED to have something to cover your nose and face when the wind chill gets below zero.
• Two Shemaghs. A shemagh (also known as a keffiyeh) is what the military wears in the desert (Middle East). It is a square cotton cloth, usually 36-42 inches. They are great for covering your neck and face if you cannot use a Balaclava. These also work great as slings for carrying water jugs from a creek. Note: do NOT get shemaghs in the following color combinations: black/white, red/white, yellow/white, blue/white. These colors are used by the Wahhabi Islamic sect (Saudi Arabia), Palestinians, some other militant Islamic groups and the blue and white is Israel, respectively. Not many people are going to know this, but since I roam around a few military installations I do not want to upset people who may know this or send the wrong message, like expressing support for radical Islam. There are a ton of colors now, but beware, get them from an army surplus site and not a fashion site. The ones used for fashion are poorly made and fall apart/get easily snagged. Plus fashion ones are not 100% cotton. I got mine from Amazon.
• A mirror for signaling help.
• Energy foods. Have the following tucked away somewhere for "just in case". Nuts, energy bars (I don't care which ones, just something with a lot of calories, fat, not just sugar), nut butters in individual packets (peanut or almond), hard candy, seeds (pumpkin, etc), granola. I also have packets of Emergen-C for replacing electrolytes in hot climates.
• Hats. Have a good cold weather hat in whatever fabric you tolerate (except cotton). It needs to insulate your head from the cold. A good hot weather hat with a wide brim (or drape in back) to protect you face and neck is also a necessity. * Iodine water purification tablets. I covered this in the "Water" section.
• A NOAA (National Oceanographic and Atmospheric Agency) radio. I have an Eton that I bought from Cabelas that is both solar/hand crank lithium rechargeable batteries and battery operated by 3 AAA cell batteries. It also has AM/FM so I have some entertainment. This is crucial for keeping track of adverse weather conditions. I have had to move camp in the middle of the night after tornado and/or flood watches were issued for my area. You can buy cheaper ones that are exclusively for the NOAA weather stations if you don't want to or can't listen to the radio.
• A waterproof marker and paper. Okay, I know the marker is toxic but here is why you need this, if you leave your car for an extended period of time, write the date and time you left, your destination and your name. Place it folded over on the dashboard of your car. If for whatever reason you go missing; law enforcement will have this information so they know where to look for you. Do NOT leave it open on the dash. This will announce "BREAK INTO ME!" to someone who is tempted to do so.
• One or two garbage bags. These can be emergency rain gear or used to place on the ground to lie on to protect you from moisture.
• One gallon size Ziploc (or other type) of plastic bag. One of the uses for this is to stuff it full of snow and tuck it in your sleeping bag or inside your jacket (but NOT against your skin) so you can have water. You cannot melt snow in an aluminum (or titanium) cup. When it gets hot it will just steam and jump around. It will not melt.
• Yak-trax. These are non-slip plastic and metal slip on "grippers" (can't think of the word right now) to keep you from slipping on the ice. You pull these over the bottom of your shoes and the metal on them grips slippery surfaces to keep you from falling. A definite must if you are in winter conditions.
• First Aid kit (to be covered in section 5).
This is not an all inclusive list, but it's the basics of the most important factors to staying safe (or alive). Keep dry, keep warm/cool, keep hydrated, keep fed and know where you are.
read Part 1 | Part 2 | Part 3 | Part 5
photo: © Vanessa