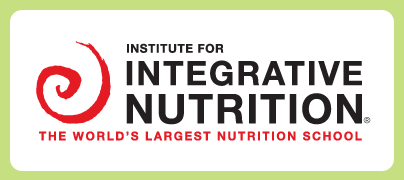 Recovering from a chronic, disabling health condition and looking to start working again? Passionate about health and wellness, and wanting to share all your hard-earned wisdom after years in the trenches with an invisible illness? Then the home study Health Coach Training Program offered by the Institute for Integrative Nutrition (IIN) might be for you. Check out their website and if the vibe feels right, you'll want to sign up to enter for your chance to win a FULL SCHOLARSHIP for any upcoming 2011 class of their Health Coach Training Program.
IIN rarely offers full tuition scholarships and there will only be 1 lucky winner. But even if you don't get the free scholarship, you won't walk away empty-handed – just by completing this form, IIN will give you a complimentary copy of their Healthy Cooking Course, hosted by celebrity food expert and holistic Health Coach, Andrea Beaman.
IIN's cutting edge curriculum is offered as a home study program via iPod, so you can listen to each module from bed or from the beach – it's completely up to you. Not only is the course flexible and adaptable to your schedule and energy level, but so is your future career. As a practicing health coach, you get to choose your hours and how you work with clients, whether one-on-one in person, in live group classes or via the phone or Skype, in adventure retreats around the world, or even video courses sent by email. It's completely up to you. And IIN provides you with everything you need to do it – from world class speakers and kick-ass course content, to honing your listening skills and giving you the business tools to run your practice. They even give you a customized website and business cards to get started. And so much more – including a network of thousands of other inspired change agents looking to make a positive impact on their world.
Grab your chance to get all this for free! This full tuition scholarship is available to anyone who enters their information in this form before Wednesday, August 31st at 5 pm EDT. The recipient of the tuition scholarship will be announced on Tuesday, September 6th. That student, upon enrollment, will be responsible for $495 (plus any applicable sales tax) for course materials not covered by this offer. The full tuition scholarship can be applied retroactively only if the student enrolls between Thursday, August 18th at 9 am EDT and Wednesday, August 31st at 5 pm EDT.
This opportunity is only available until Friday, August 31st, so fill out this form today! In the spot where it asks who referred you, you can put my name – "Julie Genser."
As a 2002 graduate of IIN, I'd be happy to answer any questions you might have about my experience with the program. Just shoot me an email with your questions.