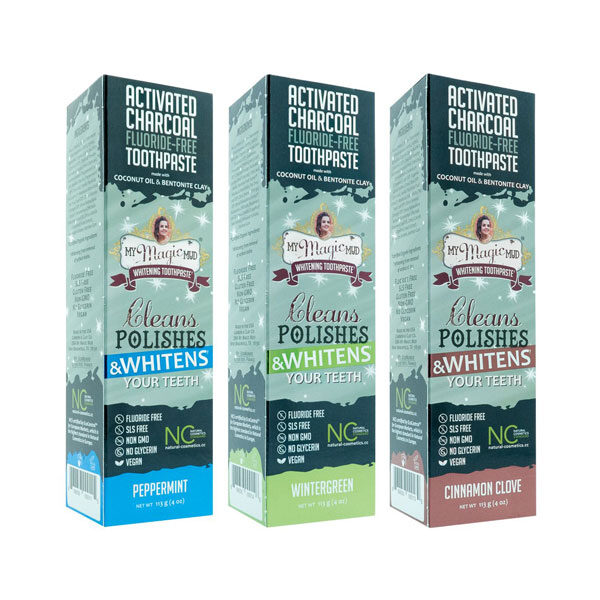 My Magic Mud Whitening Toothpaste is the first toothpaste to combine activated coconut shell charcoal and bentonite clay. It is made with smart and wholesome ingredients and is fluoride-free, non-GMO, and Natural Cosmetics Standard certified.
Activated charcoal really works. The benefits of activated charcoal have been well known for ages. Activated charcoal removes plaque, toxins that cause bad breath, and teeth stains through a process called adsorption where these unwanted elements adhere to the porous surface of the charcoal. The result is a dentist-like clean, and a brighter and whiter smile!
All ingredients to our products are either inorganic materials, such as activated charcoal and bentonite clay, or certified organic products, such as the essential oils derived from plants used for flavor.
Our products are vegan and contain: No GMO, No Additives, No Fluoride, No Chemicals, No Gluten, No SLS, No Glycerin, No Triclosan, No Foaming Agents.
The essential oils we use are sourced from growers all over the world and cultivated over generations. We offer the highest quality organic, wildcrafted, kosher, and fair trade oils. We also use a food grade, steam activated coconut shell charcoal powder that is velvety and grit free.
Was nervous at first but LOVE it!
I was so hesitant to try activated charcoal toothpaste because it's black and I was scared it would stain my teeth. I finally bit the bullet and tried this brand. It's now my main toothpaste. It tastes great and it removes all superficial stains to leave teeth polished and bright! Comes in several different flavors.
You must login to post comments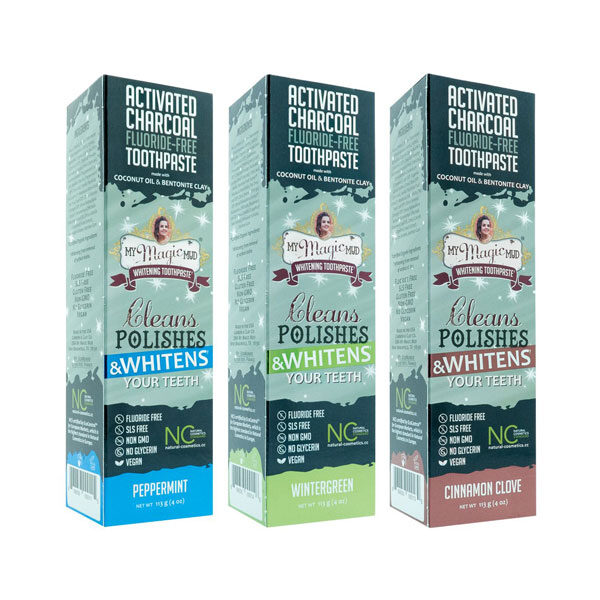 My Magic Mud Activated Charcoal Teeth Whitening Toothpaste
3 years ago
You must login to post comments