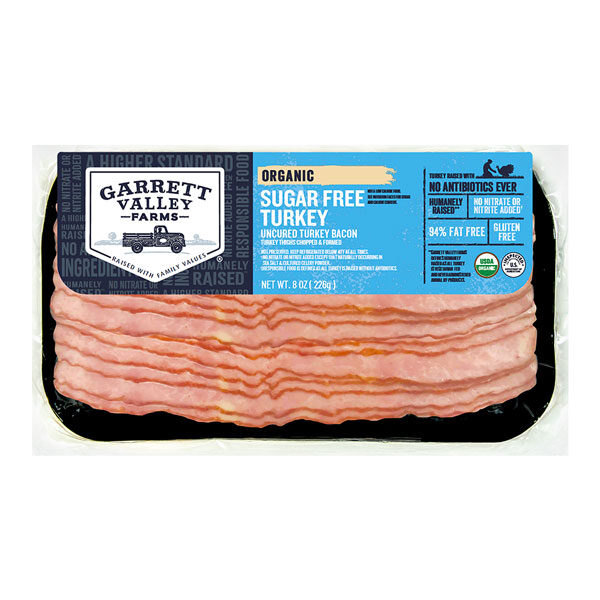 Garrett Valley Farms makes an organic turkey bacon that is humanely raised, fed an all-vegetarian diet, and never given antibiotics. The result is an organic sugar-free turkey bacon that contains less fat than pork bacon. Only 8 ingredients, and never any artificial preservatives, nitrates or nitrites. It's gluten free, 94% fat free, sugar free, and paleo friendly, with 6 grams of protein.
Ingredients: Organic Turkey, Water, Sea Salt, Organic Vinegar, Cultured Celery Powder, Organic Paprika, Organic White Pepper, Organic Onion Powder.
Allergens: DOES NOT CONTAIN: gluten, nuts, casein/dairy, oil of pimento, mustard, garlic, sesame, corn, fish
I just tried this turkey bacon for the first time. I was very skeptical. I followed the directions on the package — 15 minutes in my toaster oven at 400 degrees. Came out perfect every time! Not as crispy as pork bacon but it did add a welcomed texture + taste to my turkey sandwich. I'm addicted!!
You must login to post comments