Watch the full documentary right now.

This powerful documentary investigates our government's criminal mishandling of 9/11 and what the long-term health consequences have been for the workers and local residents in the area since the attacks. Filmmaker Heidi Dehncke-Fisher and producer Bruce Kennedy reveal the far-reaching health effects of 9/11, making a strong case that the EPA's reassurance to the public that the air around Ground Zero was safe to breathe, live and work in just days after September 11, 2001 was based on White House policy, and not science.
Five to ten years after the tragic incident, many of the first-responders who risked their lives to help recover victims from the scene are now seriously ill, dying, or dead. Most of the workers were not given appropriate respirator masks to protect them from the chemical soup they were working in. It was months after the attacks before any systematic decontamination procedure was put into place, so workers were tracking home toxic contaminants in their clothes and cars. There were no efforts to make Ground Zero safe for workers once it was clear there were no survivors – the fires were left smoldering until December of that year, with about 5,000 people working on the site each day.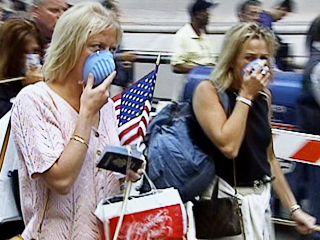 The film shines light on the fact that "You cannot find what you don't look for," referring to the fact that the EPA only tested ten ambient air samples by 9/13, and the samples only tested for certain toxic chemicals. The reality is that the pulverized contents of both buildings released tons of toxic chemicals and heavy metals into the air, including asbestos, benzene, mercury, lead, cadmium, PCBs, and crystalline silica. Within a month or so, workers, local residents and school children who were encouraged to go back to the area were experiencing asthma, nose bleeds, pneumonia, respiratory distress, sinusitis, nasal congestion, reactive airway disease, chemical sensitivities, gastro-esophageal reflux disease, heart problems, and other health issues. People were brought back into contaminated spaces that were covered with toxic dust, and not given proper instructions on how to clean it without putting themselves at further risk.
As someone who was in NYC on 9/11 and lived close enough to Ground Zero to have experienced the horrible air quality for months following the event, I found the film to be eye-opening. I have suffered with reactive airway disease since 9/11 myself, and I now worry about possible exposure to asbestos. This is a sobering look at the importance of air quality and the unfortunate long-term effects of trusting government officials and ignoring common sense and first-hand experience.