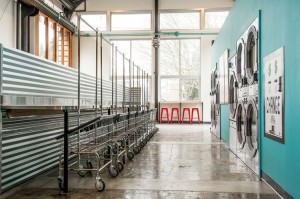 Finally, a laundromat with an awareness of the needs of environmentally sensitive customers! Spin Laundry Lounge, an
eco-friendly laundromat, bar and cafe located in Portland, Oregon, is redefining the public laundromat experience. Owner Morgan Gary's mission after graduating with an MBA in Sustainable Business was to give the laundromat a 21st century update: the fastest, state-of-the-art, most energy-efficient machines in the world plus eco-friendly laundry products in a retro-mod cafe/lounge, serving local food and drinks. Her vision has resulted in a washing experience like no other, and one that offers customers with chemical sensitivities an opportunity to experience the same convenience that regular customers have enjoyed in traditional public laundromats for years.
Morgan shared with me that customers with environmental intolerances (and members of Planet Thrive!) have been able to use her hypoallergenic washers and dryers. Spin Laundry Lounge has three "Pronto" machines (these wash and dry in the same machine) that have never been touched by chemical detergents or fragrances. Customers who use these machines are provided with free Nellie's All Natural Laundry Soap and Oxygen Brightener (a non-chlorine bleach alternative). These machines are located in their soap shop. In addition to not having been used with chemicals or fragrances ever before, they also have a free 60 second sanitizing rinse cycle that cleans the drum of the machine and the soap compartments before each use. Morgan reports that customers who are unable to use washers and dryers at other public laundromats because of sensitivities have been able to use the washers at Spin.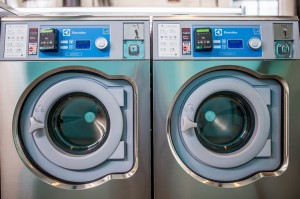 The amenities provided to all customers include:
– Fully attended, always bright and clean
– FREE sanitizing rinse guarantees the cleanest machines in Portland
– FREE Nellie's All Natural Laundry Soda with every wash!
– 24-hour surveillance
– Earth-friendly signature Wash & Fold service
– Pay with credit/debit card or coin
– Change machine
– Text message alerts when your laundry is finished
– Free WiFi
– Eco-friendly soaps, chlorine-free bleaches, and stain removers sold by the load
– Over 40 feet of folding tables to accommodate large items
– Open late: last load at midnight
– Food and drink available everyday 8am to midnight
– Beer and wine!
– Classic arcade games and pinball provided by Ground Kontrol
Spin's Pronto machines are Oregon's first and only completely hypoallergenic machines – the best choice if you're sensitive to the harsh chemicals commonly found in commercial laundry products. The revolutionary Pronto – a washer/dryer combo that doesn't require a load transfer – spins your laundry from dirty-to-done in just an hour. Just throw your laundry in, and you'll get a text when it's time to pick it up.*
* Pronto price includes a free dose of Nellie's All Natural soap and All Natural Oxygen Brightener (non-chlorine bleach). No other soaps are allowed in these three machines to ensure they are always free of any harsh chemicals or toxins.
There are two ways to pay for your laundry cycles: credit/debit card readers at every Spin washer and dryer, or old school coin operated machines. They even have a change machine.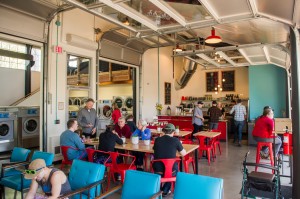 Their text service allows you to grab a bite in the cafe while you wait, or run to the grocery store – Spin machines send a text when your laundry's got just ten minutes left, and then again when it's done. Planning ahead? Text "status" to Spin's number (818.877.9100) to check if there's a washer available before you ever leave the house.
Spin also offers a signature Wash & Fold service if you don't have the time, or don't want to wash your clothing yourself. Just drop it off, and they'll do the rest: separate lights and darks, then wash in cold water with Nellie's All Natural Laundry Soda (and Oxygen Brightener for lights) and dry on medium. All items will be ready and waiting within 48 hours – clean, dry, folded (or on hangers).
Spin sells only environmentally friendly soaps, bleaches and stain removers – free of harsh chemicals and fragrances commonly found in commercial laundry products. Choose from their line of Nellie's All Natural, Charlie's Soap, or The Laundress. Planet Thrive does not have personal knowledge or experience with these laundry detergents so we cannot say whether they are appropriate for those with environmental sensitivities, and as with all detergents, you should test to make sure you tolerate their cleaners before using them on a full load.
Their cafe offers a full range of bites, from mixed nuts or a banana, to panini sandwiches, salads and Indian spiced popcorn.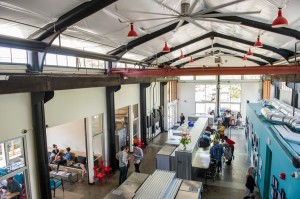 As far as sustainability goes, Spin incorporates both social and environmental sustainability into every facet of their business.
Key sustainability highlights:
– The most energy-efficient laundry equipment on the market.
– Only environmentally-friendly laundry products: free of harsh chemicals and fragrances, and sold in bulk.
– Eco laundry accessories like dryer balls vs. the toxic (dryer-sheet) alternative.
– Clothing discards / donation service.*
– Energy-efficient kitchen appliances.
– Local, organic, vegan and gluten free food and drink.
– Compostable "to-go" containers, cups, cutlery, and paper products.
– Minimal waste / recycling model.
– Environmental-friendly cleaners – absolutely no toxic chemicals or irritants.
– Low flow sinks and toilets.
*Spin will clean and fold your discarded clothing, then deliver them to area shelters for donation.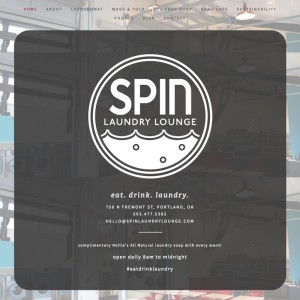 Planet Thrive celebrates the arrival of conscious cleaning and congratulates Portland for being a community that can sustain such a conscious business model. We hope to see and support other similar laundromats around the country as awareness of the toxicity of traditional laundry detergents and dryer sheets increases. Thank you Morgan Gary and Spin Laundry Lounge for leading the way!
Please note: Planet Thrive has not been to the Spin Laundry Lounge so we cannot say whether the environment is appropriate for those with environmental sensitivities. Although Spin has created an eco-friendly space and promotes the use of chemical free detergents, there may be customers who have washed with chemical detergents before and are putting those clothes into the chemical free machines. As always, one must test for themselves to see if they tolerate a space or the clothing that is washed in shared machines like this. Certainly, the odds are more in our favor that we will tolerate this business over traditional laundromats.
photos: © Nate Watters