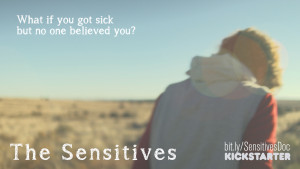 Introducing The Sensitives, a feature documentary that is telling the story of Multiple Chemical Sensitivity (MCS) and the experience of having invisible disabilities without help. It is a very compelling and passionate effort at raising empathy and awareness for disability issues through stories that haven't been told this way before.
The filmmakers launched a Kickstarter campaign TODAY to raise funds to get this film to the finish line and we'd love to help them make it! Learn more about it, watch their teaser, and pledge support at this link >>> bit.ly/SensitivesDoc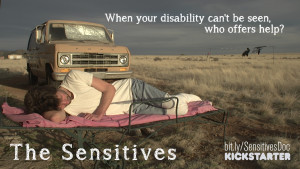 The Sensitives documents families searching for relief and resisting the pull into isolation. The director, Drew Xanthopoulos, followed two families and well-known EI activist Susie Molloy for over three years to capture the work of finding and keeping safe housing, holding families together, and developing strategies to maintain good health against the toxic backdrop of modern life. You may have even seen Drew filming Susie in Snowflake at some point!
Please support The Sensitives however you can and spread the word about this project by sharing their link with your friends and community, and sharing on Facebook, Twitter and other social media venues.
Thank you.