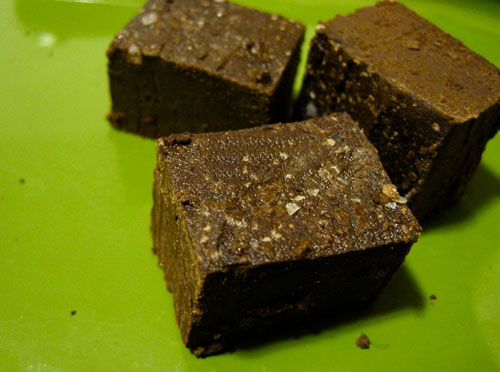 photo provided courtesy of affairsofliving.com

Fudge was always one of my favorite features of the holiday dessert platter.
And thanks to this recipe, fudge can now reclaim its position as one of my most favorite indulgences.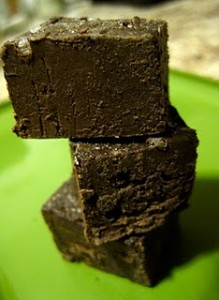 Dairy free, gluten free, sugar free, full of protein, and even packing a punch of fiber, this fudge is totally guilt-free – not to mention creamy, rich, and delicious. Like, melt in your mouth creamy and delicious. What's the secret? Black beans, high quality cocoa and/or carob flour, and coconut oil! But it tastes nothing like beans, I promise. Coconut oil provides a ton of beneficial fatty acids, antioxidants, and lauric acid, a natural anti-microbial agent. Because it is solid at room temperature, it is perfect for setting up the fudge! Besides being delicious, this recipe couldn't be easier to make – just throw everything in a blender or food processor, and go to town. DONE!
Speaking of coconut oil, I had been using the inexpensive organic 365 Brand coconut oil from Whole Foods until last week, when cracked open my first jar of Wilderness Family Naturals coconut oil. What a difference! The Wilderness coconut oil had a light, creamy texture, and an incredible flavor; this is a seriously superior oil. In the spirit of exploration, I plan on trying the Nutiva brand coconut oil next. What about you – what's your favorite coconut oil?
This fudge is perfect for the holiday treat table at work parties and family get-togethers. Don't tell them it is made of beans… see if they notice!
Anti-candida diet (ACD) note: If you are on the ACD and tolerate carob and/or cocao powder, this fudge is a great choice for you. I used a little agave nectar in combination with stevia (I really like the combo of the two!), but the agave can easily be omitted and substituted with more stevia. You can't mess it up!

ingredients
1 15-oz can cooked black beans, drained and rinsed (about 1 3/4 cups)
1/4 c + 2 T melted coconut oil (ghee could also be substituted)
3/4 cup carob powder, cocoa powder, or mix (I like using half-and-half)
2 tsp vanilla extract
1-2 T agave nectar (if on strict ACD, omit agave and add more stevia), to taste
1/4-1/2 tsp stevia extract powder, to taste
pinch sea salt (I like using Maldon salt flakes – pretty and tasty!)

directions
Put all ingredients (except salt) in high-powered blender (like a VitaMix) or food processor and process until totally smooth. Mixture will be thick.
Line an 8″x4″ loaf pan with saran wrap, or place saran wrap on a plate, and transfer fudge mixture to pan, pressing down firmly. If forming on a plate, form a rectangle and smooth edges as much as possible. Sprinkle with a little bit of coarsely ground sea salt. Place in the refrigerator, and let set for at least 1 hour, or until totally firm. Slice into 24 squares (approx 1″ squares), and serve!
Store in the refrigerator for up to 5-6 days (but it won't last that long!!!). For longer storage, cut fudge squares can be frozen, and defrosted in the refrigerator or at room temperature until thawed. DO NOT microwave the frozen fudge to defrost it unless you want fudge sauce; the oil will melt!
VARIATION:
Mint fudge: add 1/2-1 tsp mint extract along with other ingredients, and blend as directed
Nutty fudge: add 2-4 Tbsp chopped nuts to mixture after blending or substitute 1-2 Tbsp of coconut oil with nut/seed butter
makes 24 pieces

recipe courtesy affairsofliving.com