posted in <<Elana's Gluten-Free Pantry > Featured > THRIVE! EXPERTS
Elana's Gluten-Free Pantry
Chicken meatballs
another yummy gluten-free recipe from Elana's pantry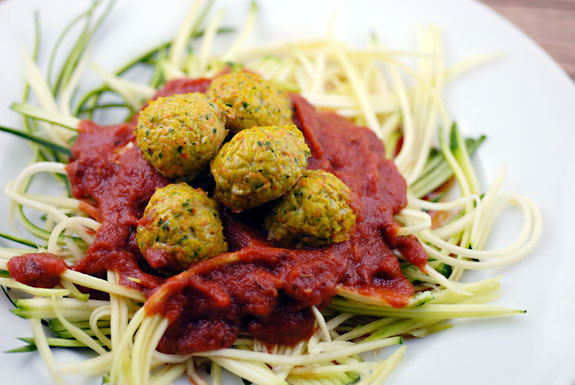 photo provided courtesy of elanaspantry.com

This recipe comes from The Spunky Coconut Cookbook by my adorable friend, Kelly Brozyna of the spunkycoconut.com. Below is my version of Kelly's delightfully delicious gluten free chicken meatballs.

ingredients
1 cup zucchini, chopped (about 1 zucchini)
1 cup carrots, chopped (about 2 carrots)
½ cup parsley, coarsely chopped
3 medium cloves garlic
¼ cup blanched almond flour
1 egg
1 pound boneless skinless chicken breasts
1 teaspoon celtic sea salt
½ teaspoon ground pepper
¼ teaspoon chili powder

directions
Preheat oven to 350°
In a food processor, pulse together the zucchini, carrots, parsley and garlic
Add almond flour, egg, and chicken
Then add salt, pepper and chili powder and process until thoroughly combined
Drop tablespoon sized balls of the chicken mixture onto a parchment lined baking sheet
Bake meatballs for 20 to 25 minutes
Serve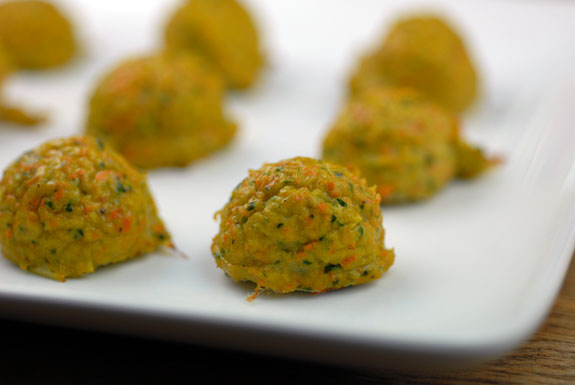 photo provided courtesy of elanaspantry.com

I serve these meatballs over (gluten free) homemade zucchini noodles, with the Tomato Sauce recipe from The Gluten-Free Almond Flour Cookbook, though you can serve them over anything you like! I have found that the zucchini noodles taste even better if you toss them in a bit of olive oil and tomato sauce and let them sit and marinate for an hour on the counter. Then top with these gluten-free meatballs. Then yum.

recipe courtesy elanaspantry.com
Leave a reply