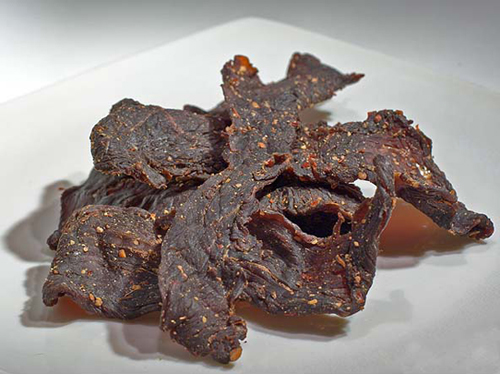 photo by Kusie [CC-BY-SA-3.0], via Wikimedia Commons

This jerky is easy to make, addictively delicious, and much more affordable and allergy-friendly than buying it pre-made. You need a food dehydrator for this recipe, although you could probably make it in an oven as well, but I've never tried that. It makes a ton, and is perfect for quick snacks on the go, camping, bike rides, or any time you need easy protein.

ingredients
Adapted from Mary Bell's Complete Dehydrator Cookbook. The spices and flavorings are very adaptable, feel free to customize to your liking.
• 2 pounds lean ground beef (grass-fed if possible)
Marinade:
• 1/2 cup Coconut Aminos, South River azuki tamari, wheat-free tamari (contains soy) or Bragg's Aminos (contains soy)
• 1/2 cup filtered water
• 2 Tbsp fresh garlic cloves, peeled crushed and minced
• 2 tsp smoked sea salt or regular sea salt
• 1 tsp anchovy paste (optional, but adds a great flavor)
• 2 tsp gluten-free spice mix of choice (I used my Dad's homemade mix), or 1 tsp paprika, 1/2 tsp cumin, 1/4 tsp coriander, and 1/8-1/4 tsp cayenne pepper
• 1/2 tsp ground mustard
• 2 tsp onion powder

directions
Mix together marinade in a small bowl. Place ground beef in a large bowl or container, and break up into small pieces. Then pour marinade over meat, and using clean hands mix until totally combined. Cover bowl tightly and refrigerate for 8-12 hours for fullest flavor.
Form into discs or sticks using your hands, a mold, or a jerky gun and place on dehydrator trays. I use a teflex sheet covered with light mesh sheet on the tray, and then removed the teflex later on once more dry. Dehydrate at 145-155 degrees Fahrenheit for 10-24 hours, depending on the size of your jerky, the type of dehydrator you have and the humidity in your kitchen.
Dehydrate until until dried out, blotting oil from surface of jerky periodically. Finished jerky will be hard, but still pliable. When done, wrap jerky in papertowel or cloth, which will draw out excess fat and allow it to stay fresh longer, and let it sit a few hours or until cooled. Once cooled, unwrap from towel and store in well-sealed bags or containers.
For longer storage beyond 2-4 weeks, store in the refrigerator or freezer.
makes about 20 oz jerky

recipe courtesy affairsofliving.com