gulf war syndrome
a travesty of government experimentation?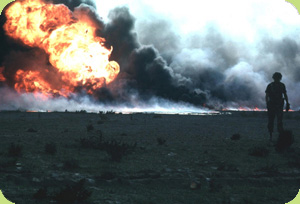 In November 2008, a congressionally mandated scientific panel presented a 450-page report to U.S. Secretary of Veterans Affairs James Peake recognizing that Gulf War illness is real, is a result of neurotoxic exposures, and is a chronic condition that few veterans have ever recovered from. The report was a vindication for GW vets, who have been up against the contradictory stance of the U.S. government, which has consistently denied the illness was real and denied veterans disability benefits as well for the past twenty years. According to the report, there were two chemical exposures consistently associated with GWS: the drug pyridostigmine bromide, an acetylcholinesterase inhibitor intended to protect against nerve agents, and pesticides that were often overused to protect against sand flies and other insects.
Gulf War Syndrome (GWS) is the name given to a cluster of of medical and psychological symptoms, including fatigue, respiratory illness, muscular pain, spasms, skin rash, chemical sensitivity, memory loss, dizziness, peripheral numbness, and sleep disturbances. Over the years, many have considered other toxic exposures as causal in GWS, including the anthrax vaccine, exposure to the burning oil fields, depleted uranium, and mycoplasmas.
One study found Gulf War Syndrome patients significantly more likely to have antibodies to the experimental vaccine adjuvant squalene than asymptomatic Gulf War veterans. Squalene is a natural organic compound usually derived from shark liver oil, and is the biochemical precursor to the whole family of steroids. It is not approved for use as a vaccine adjuvant in the US, so this finding raised the possibility that it was used experimentally. Even after the war, veterans that had never served overseas but who had received the anthrax vaccine developed a cluster of Gulf War Syndrome symptoms. Interestingly, some family members of those with GWS have gradually shown symptoms of the syndrome as well, suggesting an infectious agent is involved.
Two revealing films about Gulf War Syndrome are Gulf War Syndrome: Aftermath of a Toxic Battlefield by Alison Johnson, and Beyond Treason, a 2005 film that exposes a history of profiteering by Monsanto and other big chem companies who saw war as an opportunity to market toxic products such as agent orange. It's a huge travesty that the US veterans who became ill after their years of service were treated with such disdain and abandoned financially by the government. Hopefully now that the illness has been deemed as real by the "experts," veterans can get some of the services and benefits they need and deserve.
photo: © Jonas Jordan, United States Army Corps of Engineers / public domain
RESOURCES WE LOVE!

websites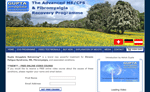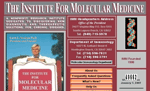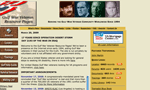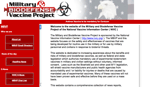 posted on June 8, 2009 |