an interactive group performance piece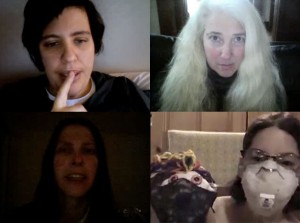 What's one thing you'd change about your chemical sensitivity? We posed this question to our members and the video responses are beginning to come in. If you'd like to add a video response to our group piece, either upload a video to the Planet Thrive community or send us your TokBox.com embed code. We will update this page with new videos as they come in. As you can see from the videos below, responses are open to a wide range of interpretation and can be approached with humor, but your answer should take the issue seriously. We prefer videos that are recorded on TokBox.com and that are 30 seconds – 1 minute in length. Once you record your message on TokBox, send it to yourself, open it up and click the "share" button, then copy the "embed code" and send to us in an email. This is the fabulous start to a new ongoing tradition at Planet Thrive where we pose provocative questions to our members and present video responses as part of a group performance piece on our site. Thanks to all participants!
click on each "play" arrow to view the videos

check back from time to time to see the latest video additions!